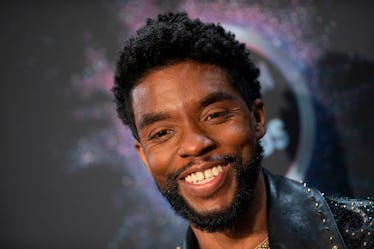 15 Chadwick Boseman Movies To Watch & Reflect On His Unforgettable Impact
VALERIE MACON/AFP/Getty Images
By now, the news of Chadwick Boseman's passing has circulated the world. Now, fans are simply doing their best to cope with the loss of an actor who embodied some of the most influential Black characters in modern film. If you're wanting to reminisce on the actor's roles that shape his legacy, here are 15 movies featuring Chadwick Boseman to watch while you reflect on his incredible impact on the entertainment industry.
News broke of Boseman's passing on Aug. 28, when it was revealed he had been diagnosed with colon cancer four years ago. The Black Panther star was only 43 at the time of his death, and had never spoken publicly about his diagnosis, so the announcement came as a shock to many; he continued to act in movies while undergoing surgeries and treatments for his cancer. "A true fighter, Chadwick persevered through it all, and brought you many of the films you have come to love so much," reps for the actor said in a statement about his death.
Though Boseman's time in Hollywood was fairly short (his first film appearance was in 2008, but he became widely known after his 2013 Jackie Robinson biopic 42), he continued to take roles that advanced representation in Hollywood. From depicting historic Black figures to portraying the first Black lead MCU superhero role as Black Panther, Boseman served as an inspiration to all who watched him.
If you're interested in seeing more of Boseman's films, here are 15 of his film roles and where to watch them. (He was also cast to play Yasuke, the first African samurai, in an upcoming film of the same name, but was not able to film for that role before his passing. It's likely that role will be recast in the future.)