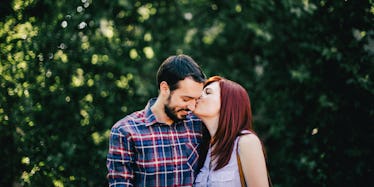 14 Perfect NYC Spring Date Ideas, Because The High Line's Not Gonna Walk Itself
There's plenty to do in New York City – most people are well aware of that. In a city that never sleeps, date activities can be found anytime, anywhere. Now that warm weather is finally upon us, you may be wondering about spring date ideas in New York City. Now, of course there are your typical touristy spots (like a walk across the Brooklyn Bridge or a trip to the Met). But if you want to go beyond that, I rounded up some suggestions that are slightly off the beaten path that are way more likely to impress your date.
Regardless if you're a foodie, jock, beer connoisseur, or theater nerd, there's something for you to find on this list. And that includes more than just Manhattan, too – be sure to explore the other New York boroughs when deciding on a spring activity for you and your date. Brooklyn, Queens, the Bronx, and Staten Island have more than their fair share of destinations that make for a good time. The following date activities range in price, too, so there's something here for any couple with any budget. Because there's nothing better than falling in love in New York in the springtime.