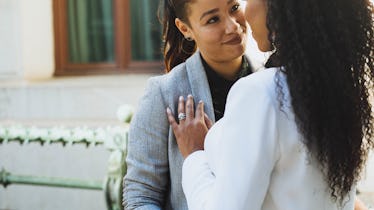 14 People Reveal How Many Relationships They've Had & Trust Them, You're Normal
Whether you've never dated anyone seriously or you've been in a dozen relationships, you might be wondering what's normal in the dating world. The truth is, how many relationships people have had really doesn't matter — and whether you started dating at 16 or 30 doesn't, either.
Everyone's circumstances are different. I was allowed to date when I was in high school, but I knew plenty of people who weren't, for example. On top of that, while some people are interested in dating from a young age, others choose not to date until they're more settled into their lives and who they want to be. Then factor in how much harder (or easier) it can be to meet people depending on where you are and who you're looking for. Maybe you live in a small town where there are only so many new people on dating apps, versus a big city where meeting people feels like less of a big deal. Not to mention, school and work can affect how you date, too — you might have plenty of free time to dedicate to a relationship, or you might be focused on other things. In any case, everyone has a different dating story.
The point is, whether you've dated a little, a lot, or not at all, you're totally normal. But, if you're curious about other people's dating histories and if there are other people out there like you, here are 14 people sharing their real experiences and how many relationships they've had, courtesy of reddit.