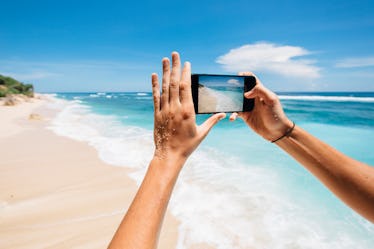 14 Instagram Captions For Your Sizzlingly Sweet Beach Pictures With Bae
Despite the fact that my Instagram profile says that I have posted 233 photos — plus some now-deleted highly Heffe-filtered 'grams from 2012 when I had three followers — I still have not mastered my "aesthetic." I have posted grainy shots at bars with friends, as well as obnoxiously filtered solo beach 'grams to justify spending $150 on a one-piece. But I have a secret when it comes to the thirsty bathing suit photos: Always come up with a not-so-serious caption to accompany them. Instagram captions for beach photos with your boyfriend or girlfriend must be even less serious, because let's be real: Nobody wants to hear about how in love you are while you are also on a beach. Rude.
There are three rules to crafting an excellent Instagram caption for any couples' picture, whether you are on a beach or on a spaceship: First, always be a little bit self-deprecating. Again, the pride you take in your love is great, but society already tells us that singles are less than, so be gentle. Second, say something relevant to the specific picture you are posting — don't just quote a random Drake song or put a string of pink-hued emojis.
Third, take a page from Nike's book and "just do it." Check out my suggestions below, but write whatever you want to. It's just Instagram. We only live once and spending too much time thinking of a caption so that your ex's cousin and your friends from high school think your life rules is a waste of time. And now, I present some oceanic puns for your perusal.