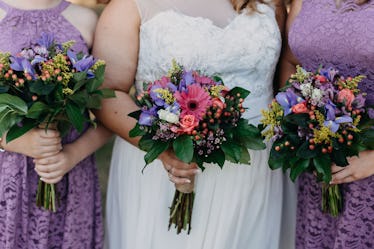 13 Truths About Being A Bridesmaid You Need To Know Before Saying "Yes"
You said "yes" to the best. And by "the best," I mean your bestie or close girlfriend who wants you to be in her wedding. Your excited response may have opened the pastel-colored door to being a bridesmaid, but there's so much more to it. Aside from dedicating your time to helping the bride and planning a fun bachelorette party, there are other truths about being a bridesmaid you should fully understand before you commit. (I mean it — read the small print.)
You know that cute beaded bridesmaid gown your bestie chose? You'll have to pay for that. And you'll also need to mark your calendar for all of the rehearsals, bridal activities, and solo responsibilities. There's a process to wedding planing, and you'll be a crucial part of it. Needless to say, bridesmaids are a significant part of the actual wedding day, but their assistance and participation has to be guaranteed long before that.
Think of being a bridesmaid in a wedding like a game of chess. You have to protect your queen, and it might require adjusting and altering a tad on your behalf. Brides need their bridesmaids, but before you agree, keep in mind that you'll likely encounter a few, if not all, of these 13 situations.