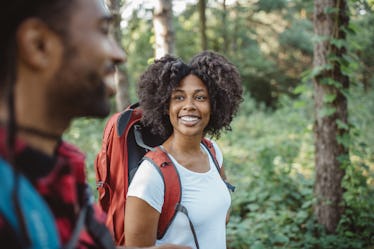 13 Seductive Scents That'll Turn On Your Aquarius Partner
svetikd/E+/Getty Images
Head-strong, thoughtful, and playful, Aquarius is as sexy as they come. If you're looking for scents that'll turn on an Aquarius, there are a few key things to keep in mind. "To turn an Aquarius on, aim for unconventional and natural scents," Astrologer Six tells Elite Daily. "Try to avoid anything too artificial-smelling. This air sign prefers scents they can tolerate on a consistent basis." Since Aquarius is ruled by Saturn (in addition to Uranus), they recommend fragrances featuring cinnamon or other earthy smells.
Likewise, astrologer and author Mecca Woods recommends woodsy fragrances, like cedar and sandalwood. "Aquarius hates to be locked into categories or labels, so a gender-neutral or unisex fragrance is the way to go. Not only are cedar and sandalwood gender-neutral, but they also offer a sensual, calming quality that can help ground a frazzled or distracted Aquarius in the moment," she tells Elite Daily. "Fragrances with spicy notes offer just enough excitement to the senses to keep things interesting, which Aquarius prefers," she adds.
With this in mind, get into the body oils, butters, candles, and hair mists that'll have your Aquarius raring to go.
We only include products that have been independently selected by Elite Daily's editorial team. However, we may receive a portion of sales if you purchase a product through a link in this article.