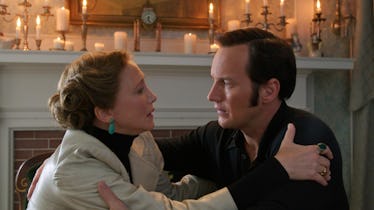 13 Scary Movie Boyfriends & Husbands, Ranked From Halloweak to Spooktacular
The reason fall is my favorite season isn't because of the pretty leaves, the cooling temps, or even all the fuzzy sweaters — though those all are awesome. No, it's because fall is horror movie season and I live for scary movies. I dig the visceral chill of being scared, but I love horror even more because its a genre full of amazing, complicated female heroes. No genre does a better job of exploring women's internal lives than horror — including their romantic partners (for better or worse). So, any list of scary movie boyfriends and husbands ranked is going to be based not only on their personality but also on how their behavior affects their partners.
Things I considered in compiling this list include: Did they have the final girl's back, or did they ignore all their warnings? Did they intentionally put them in danger, or maybe turn out to be a creeper in the end? And, of course, because film is a visual medium, I'll throw them a point or two for hotness. Listen, I'm a feminist, but I have eyes, OK?
So, with all that mind, which horror husband or partner came out on top? And which one is the absolute worst SO in horror cinema history? Here they are in ascending order of greatness. Also, fair warning: There will be spoilers for some of these films, so proceed with caution.