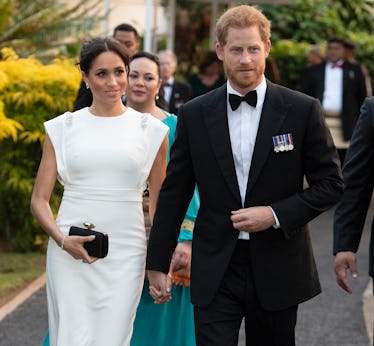 13 Photos Of Harry & Meghan Breaking Tradition To Hold Hands That'll Make You Swoon
Pool/Getty Images Entertainment/Getty Images
Meghan Markle and Prince Harry have never been your average royals. Markle is American, biracial, divorced and a 36-year-old Hollywood starlet at the time of their engagement. Harry was most notably known as the "bad boy" of the family, constantly being spotted at different clubs and parties and refusing to settle down with any woman until, of course, he met The One. Now the two have come together and their relationship is just as non-traditional as you'd expect. In fact, these photos of Prince Harry and Meghan Markle holding hands at different events just goes to show exactly how much they're breaking royal tradition.
If you're wondering why their hand-holding is such a big deal, allow me to explain. The royal family reportedly has an unwritten "no PDA" rule. Basically, the rule was put into place because Prince Harry's grandma, Queen Elizabeth, has never been big on public displays of affection with her hubby (Prince Harry's grandpa), Prince Philip. Holding hands falls under the umbrella of PDA and, out of respect for their elders, the younger members of the royal family have decided to follow suit by refraining from holding hands. "The Queen rarely holds hands with her husband in public and this seems to have set an unwritten precedent for the other royals," body language expert Robin Kermode explains to the Daily Mail.
For a fleeting moment, fans of Harry and Meghan were worried that they, too, were going to hold off on the hand-holding. But, luckily, they've made it abundantly clear that their hands just can't stay away from each other. Don't believe me? Check out these adorable pictures of them defying royal etiquette and holding hands in these images below.