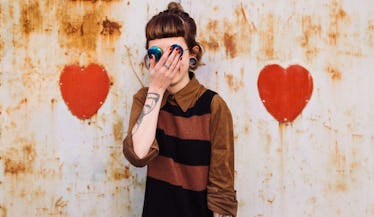 13 People Reveal The Cringeworthy Things They Did After A Breakup & You'll Relate So Much
I've always been someone who clings to their pride after a breakup like it was the last emotional life raft on a sinking ship. That has mostly kept me from doing anything too cringey afterwards... mostly. I've definitely done the post-breakup drive-by, but my peak cringe was "accidentally" texting them messages that were "meant" for someone else in the hope that it would make them realize belatedly that I was "the one" and cue the happily ever after. Shocker, it never worked. Embarrassing, sure, but when it comes to things people did after a breakup and then confessed on Reddit, honestly it barely registers on the cringe-o-meter. And I'm very OK with that.
But just because I don't act out (as much as I really want to) after a breakup, that doesn't mean I can't live vicariously through folks who do go there after a split. There's something cathartic about hearing stories of folks who really just lived their truth or who took the low road during their breakup blues. Burn all the bridges, scorch all the earth, and then let's pop some popcorn and embrace the secondhand embarrassment together, because I promise you the cringe is strong with these stories.