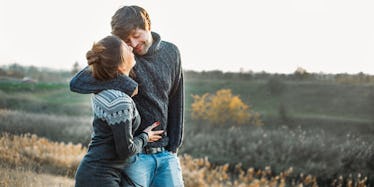 13 Women Reveal The Most Thoughtful Thing They've Done For A Partner & You'll Cry
In the spirit of it being cuffing season and me being (not-so) wonderfully single (I self-sabotage, it's fine), I decided to get emo and talk to a bunch of coupled-up folks about the most thoughtful things to do for a boyfriend or girlfriend. Little thoughtful surprises to do for your partner are fun ways to show you're actually listening to them when they're talking about the latest tennis match or the friend they've been missing so much. While I haven't been in a relationship for a couple of years, I really do remember the thoughtful, spur-of-the-moment surprises my partner and I planned for one another.
The most memorable one was the birthday party he planned for me with my best friend and sister. They gathered all of my closest friends to surprise me in my apartment, along with a cake from one of my favorite ice cream stores, and a video montage to One Direction's "Best Song Ever" with most of my close family and friends dancing along to the song. While all of that took a whole lot of planning, there are tons of ways you can surprise your partner that can either be extra and over-the-top or a smaller, intimate gesture to show you care. Read on to see what several other people did for a thoughtful surprise, gift, or gesture for their partner that can serve as inspiration whether you're a single Pringle like me, or need thoughtful ideas for your own relationship.