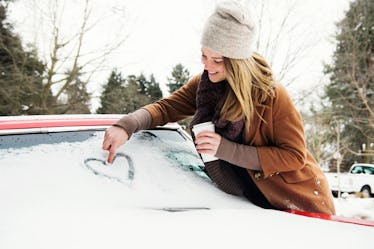 13 Gifts For People Who Are Obsessed With Their Coffee & They Don't Care Who Knows It
Over the years it seems as though coffee aficionados have successfully built (brewed?) their very own culture. It's less like a secret society, and more like an exclusive club, where membership is based on how many cups you throw back a day. Even though their Starbucks order might be super complicated to recite off the top of your head, and they aren't shy when it comes to pointing out your pot is too weak or too strong, it's actually super easy to buy gifts for coffee lovers around the holidays, even if you're not a professional barista yourself.
Trust me, you don't have to know the difference between a macchiato and a cappuccino to know an awesome holiday gift when you see one. Coffee-lovers will appreciate any present that involves their favorite sip; it's just a matter of finding something a little more creative than the standard "but first, coffee" t-shirt (because chances are, they already have a few).
Of course, taking your coffee-obsessed friend to a hipster cafe to catch up would be fitting enough. Coffee-shop regulars love just being in that atmosphere, and sharing the experience with good company is an added bonus. But if you're anything like me, and you love spreading holiday cheer with a gift or two for your loved ones, here are a few suggestions to get you started.