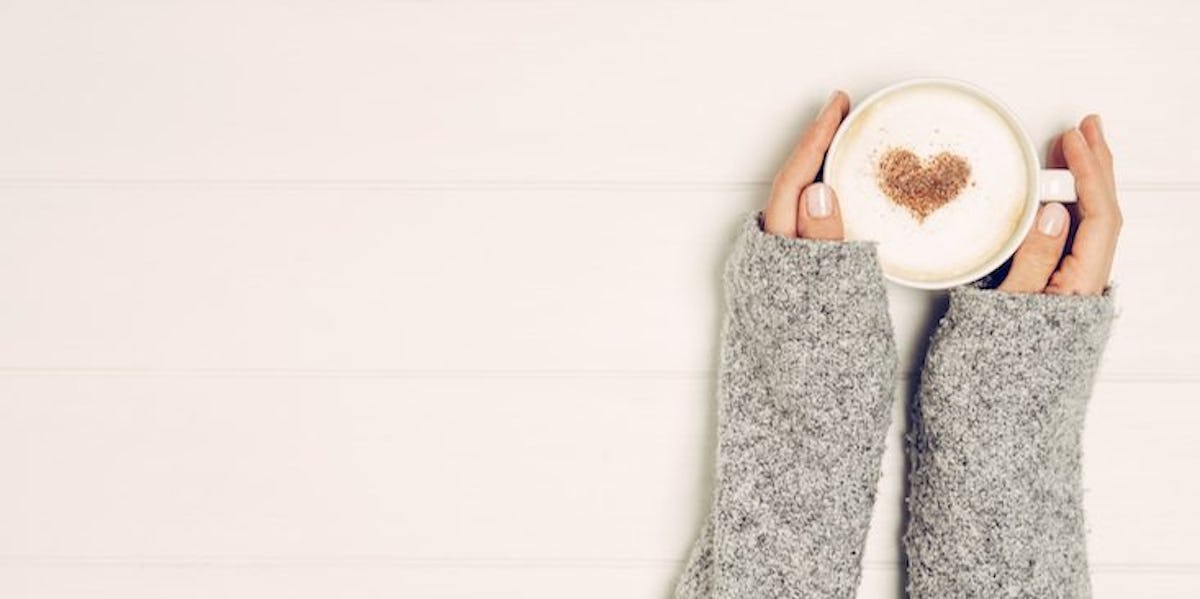 10 Must-Have Products That'll Make Every Coffee Lover's Life So Much Better
Shutterstock
Coffee lovers know that waking up every morning to a piping hot mug of the good stuff isn't just a means to an end; it's a freaking lifestyle. For us, "but first, coffee" isn't just a cutesy caption for a #basic Insta photo, it's the golden rule. Where and how we order our coffee is how we're defined, and you better believe it's a must-know fact if our partners want to impress us. But as much as we love a strong brew, we thoroughly enjoy exploiting our caffeine obsession with products for coffee lovers, like adorable mugs and obnoxious graphic tees made by brands who just get it.
In case you haven't heard, National Coffee Day is Sept. 29, and your favorite spots like Dunkin, Wawa, Krispy Kreme, and Pete's are all participating with generous discounts. Unlike the bulk of so-called "national holidays" you've never heard of before, National Coffee Day -- not to be confused with International Coffee Day on Oct. 1 -- dates all the way back to 1997 when it was first promoted in China by the International Coffee Organization.
If you fancy yourself a coffee lover, chances are you're not afraid to literally wear your obsession on your sleeve, down multiple cups a day, and demand a caffeine fix before you can properly function. And one of the best parts about nursing a coffee obsession is the merch that comes along with the territory. That being said, celebrate National Coffee Day by treating yourself to your favorite brew, as well as any one of these must-have products that'll further enhance your sipping pleasures.
1. Iced Coffee, Literally
Cool Beans Coffee Ice Cube Tray, $9, Urban Outfitters
#TeamColdBrew will get a kick out of this clever ice cube tray from Cool Beans.
Divide a pot of coffee into the bean-shaped molds, keep in the freezer, and refill as necessary. This will be especially convenient for hectic mornings when you don't have time to a) brew a fresh mug or b) stop somewhere on your way into the office.
2. Mixing Spoons That Get You
Coffee Lover Hand Stamped Teaspoons, $26.72, TheSmileEmporium on Etsy
Coffee shop regulars are typically assumed to be bookworms who sip lattes all day and genuinely appreciate a good quote.
If this stereotype isn't far off from you or your bookish BFF, then these spoons are an essential in your kitchen.
3. Bag O' Joe
Pete's Coffee Sumatra Signature Blend, $15.95 per pound, Peet's Coffee
Treating yourself to coffee shop to-go cups every once in a while is nice, but making it a regular occurrence can get pricy. Save Starbucks for a celebratory brew (or for emergency midday pick-me-ups), and brew your own instead!
Peet's signature Sumatra is described as "the quintessential Indonesian coffee," that is literally homegrown on small landholders soil and processed by hand. It really doesn't get more authentic than that.
4. A Hint Of Fall With Your Brew
Eli Mason Spiced Simple Syrup, $13.99, Eli Mason
Contrary to popular belief (and maybe what your own taste buds tell you), you don't need PSLs to taste the lovely fall season.
Eli Mason's spiced simple syrup harmonizes notes of cinnamon, ginger, and allspice. Add a drop or two to your morning coffee for a cozy, autumnal brew.
5. A Coffee Tee That Was Made Just For You
Waterhouse Design Pot Head Graphic T-Shirt, $20, Waterhouse Design on Etsy
This t-shirt is very, very punny.
This would be the perfect gift for the co-worker who's constantly refilling her mug, or a dress-down staple for days off spent chilling at the local coffee shop.
6. A Mug That Says It All
Got Me Tipsy Go Away Funny Glass Coffee Mug, $14.87, Amazon
Let your coffee obsession speak for itself with this hysterical mug that's only half kidding.
Strategically place this mug somewhere on your desk where the message can be read loud and clear. Mornings are hard, and they're even worse when you haven't had your caffeine fix. The least you can do is give co-workers a fair warning, right?
7. A Boozier Brew
Uncommon Goods Merlot Infused Coffee, $19.95, Uncommon Goods
Forget brews and beer, how about a splash of merlot to go with your mocha?
John Jenkins of Orange, Virginia has made an after-dinner indulgence that'll have you skipping dessert for a full mug instead. Each Arabica bean is infused with merlot so you get a smoky, medium roast with hints of red berry, currant, and blackberries. For the best flavor, Jenkins suggests adding just a smidgen of sugar.
8. A Personalized, Comfy Lounge Pillow
Uncommon Goods Personalized Library Card Pillow, $65 to $95, Uncommon Goods
As much as I love stopping by Dunkin on a bright Sunday morning or booking it to Starbucks when I need something stronger to get me through the day, I thoroughly enjoy taking a moment to lounge on my couch and really take my time sipping and tasting a homemade pot of coffee.
Throw pillows are a great way to enhance your lounge time, and this one inspired by an old school library card adds a little something extra to a coffee-obsessed bookworm's home decor. Granted, it's a little pricey for a pillow, but each one is customized to your liking, detailing your favorite book and author.
9. A Coffee Cozy
NevadaKnits Coffee Cozy Knit Sleeve, $24, NevadaKnits on Etsy
One of the best parts of autumn in my opinion is when the leaves turn colors and the air becomes brisk. We all love the feel of an oversized sweater to keep us cozy, and these handmade knits will do the same for your favorite mug.
Just in time for holiday season, these personalized coffee cup cozies would make for a darling gift for your coffee-loving best friend, sister, or mom. Available in a ton of colors with stitched-on initials, every coffee cup will be kept warm and marked to ensure no one steals a sip.
10. A Foam Shaker
Hairo Latte Shaker, $14, Urban Outfitters
Love yourself a latte?
This Hario shaker makes it impossible not to skimp on foam, so if you're looking for a fancy morning fix, you don't have to make the trek to local shop.