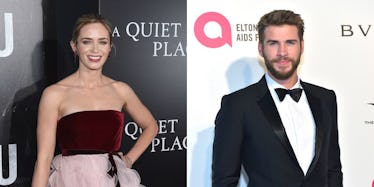 13 Celebs With Accents In Real Life That'll Make You Swoon So Hard
Rodin Eckenroth/Getty Images Entertainment/Getty Images Nicholas Hunt/Getty Images Entertainment/Getty Images
I'll never forget the first time I heard Renee Zellweger speak in an interview, because despite her IRL Texas origins, I couldn't believe the Bridget Jones star wasn't English. And while clearly, Zellweger's hardly the lonely single gal she portrayed on-screen (I mean, the girl dated Bradley Cooper!), I had always just assumed the accent was authentic. Given her Oscar nom, it's pretty clear Zellweger did, in fact, rock it. But by the number of celebs employed to play and speak as someone else entirely (ahh, the art of acting), it really shouldn't come as a surprise that Hollywood is filled with foreign accents. From KJ Apa to Amelia Clarke, stars are constantly switching it up for different scripts. But whether you're blind to it (me) or not, celebrities with accents in real life basically get an automatic bump on the hotness scale. As if they needed it.
According to Bob Corff, aka dialect coach to the stars, the task isn't quite as easy as it looks. Speaking to Refinery29, he said:
This is 'I'm going to master something in a very short amount of time, and I've got to really focus on putting my mouth, my lips, my tongue, the back of my throat in positions [they've] never been in.' Everything in your body and ego is saying this isn't right and you have to learn how to do it enough times so you get that that is what it takes to make that new sound.
Here are a few stars who you may not realize have accents IRL.
1. Andrew Garfield
Although Garfield was born in Los Angelos, the Surrey-raised actor moved back to his mother's home country at 3, meaning he's just as British as he is cute. *Swoon* Fans were pretty shook to find out the fact that he's not as American as he sounds in movies like Hacksaw Ridge, The Social Network, and The Amazing Spider-Man. Even Hills alum Spencer Pratt jumped on twitter to join the "OMG, Andrew Garfield's British???" bandwagon.
2. and 3. Liam and Chris Hemsworth
I'm seeing double, and loving it. The Hemsworth bros are not only piercing souls everywhere with their matching sets of baby blues... they also have accents. (Australian ones!!!) Unlike Garfield, pretty much everyone knows. These genetically-blessed brothers are really Australian. Like surf, worked on a cattle farm, love vegimite Australian. Liam's longtime fiancé, Miley Cyrus, even has a tattoo of the country's iconic spread in honor of her man. According to E!, the pair (and their third brother, actor Luke Hemsworth) moved between Melbourne and Outback territory while growing up. Chris even admitted to GQ Australia that it sounds "like I can tick every box on the Crocodile Dundee form." He's not wrong, but I love him (and Liam) for it.
4. Margot Robbie
Along with her stunning good looks, I, Tonya star Margot Robbie is an Australian transport. The Dalby, Queensland-born beauty began her career in Melbourne. Following in the footsteps of countless other Aussie stars, including Chris Hemsworth, Robbie got a start on popular AU soap opera, Neighbours.
5. KJ Apa
To us, he may be small town, all-American (nothing screams American like a letterman jacket) Archie Andrews, but the real life Riverdale star is actually a New Zealand native. And dare I say it, Apa is even hotter than his on-screen persona. Blame the accent. If that weren't enough, the 20-year-old recently took to Instagram to out-funny his BFF/co-star, Cole Sprouse.
Apa playfully trolled Sprouse with side-by-side throwback shots of the pair. "Man... I would have absolutely crushed you at age 17. Crushed. @ColeSprouse," KJ joked. "You wouldn't even have survived the weight of my wallet b*tch," Cole shot back.
6. Hugh Jackman
Hugh Jackman's latest hit, The Greatest Showman, tells a classic rags-to-riches tale with a bop or two (or 11) thrown in. But this IRL American dreamer was actually born and bred an Australian, and it was his childhood there that shaped his passion for giving back.
Speaking to Forbes in March, Jackman was asked about a moment in his life that has shaped him as a person. He said:
Going to the Outback of Australia when I was 18. I spent three months living and working in two indigenous communities there, who I am still in touch with. That was very life changing for me. I was a Sydney boy. I lived in pretty much an urban/suburban lifestyle, quite sheltered. I had never been to the Outback, I had never really interacted at all with indigenous Australians until that trip, and that was hugely life-changing for me.
7. Emma Watson
Brown alum, feminist, and Harry Potter leading lady Emma Watson is kind of everything. Seriously. But if it wasn't for her English origins, Watson may not have won the role of Hermione Granger after all. According to Huffington Post, there was a "British only" casting rule. "Robin [Williams] had called [director Chris Columbus] because he really wanted to be in the movie, but it was a British-only edict," casting director Janet Hirshenson said. "And once he said no to Robin, he wasn't going to say yes to anyone else, that's for sure."
8. Idris Elba
Idris Elba may have spent three seasons on HBO smash The Wire as drug kingpin Stringer Bell, but the 45-year-old actor definitely doesn't sport a Baltimore accent off-screen. Elba was actually born and raised in Hackney, London. In fact, the actor even has royal ties. Kind of. Elba and his fiancée, Sabrina Dhowre, attended Prince Harry and Meghan Markle's May 19 nuptials, but it wasn't his A-list status that earned him a spot on the guest list. The londoner is actually an ambassador in Prince Charles' charity, The Princes' Trust, a program that he has personally credited in bettering his youth.
Shortly after becoming an ambassador, Elba wrote a piece for The Mirror about his own connection to the charity.
I left school at 16 with dreams of attending the National Youth Music Theatre but was disheartened when I realised how much it would cost. It was The Prince's Trust who made it possible. They gave me a £1,500 grant and set me on the path that would eventually change my life.
9. Emily Blunt
Emily Blunt, aka one half of the world's cutest couple, is British-born and in an ongoing competition with American hubby, John Krasinski, over their accents. Or more accurately, their daughters'. While appearing on an episode of The Tonight Show Starring Jimmy Fallon in 2016, Blunt spoke about her oldest:
Hazel had my accent for a really long time and would say things like 'water,' which I was really proud of. And then the other day she goes, [feigning American accent] 'Can I have some water?' And I went, 'It's water.' And she was like, 'NO, it's [American accent] water.'
Looks like Krasinski may have won this battle.
10. Emilia Clarke
The Mother of Dragons' London origins shouldn't come as too much of a surprise given her Game of Thrones' accent is pretty spot-on to her IRL one. But that doesn't mean she isn't a pro at switching it up. And her valley girl impression may just be her best yet. While on a 3 a.m. trip to Home Depot (as one does), the GOT actress went incognito to avoid recognition, which included a baseball cap and an American accent. Callie from the Valley kills it, TBH.
11. Jamie Dornan
Jamie Dornan was born into Hollywood. Well, sort of. Holywood, County Down, Northern Ireland, that is. I guess there's a difference there. While appearing on Conan in February 2017, the Belfast-bred Fifty Shades of Grey star debunked some popular myths surrounding the Irish accent. "In Ireland, we don't say things like 'top of the morning to ya'," he laughed. "That's not a thing." And while Dornan's real-life accent isn't anything like Christian Grey's, he did admit to breaking it out in times of crisis, i.e. when ordering at In 'N Out. "There's sometimes I really want something like an In 'N Out burger or something, I'll do an American accent just because there's some things I don't want them to get wrong." Makes sense.
12. Tom Hardy
It looks like former 007 star, Pierce Brosnan, has endorsed Tom Hardy as the next James Bond. Which is basically the most British thing ever. So yeah, the actor/producer extraordinaire is from London! "I think Tom Hardy could be a good Bond," Brosnan told The Mail on Sunday's Event magazine. "I'd be happy to see him do it. You need an actor who can put a bit of wiggle into it—that's what makes Bond."
13. Gal Gadot
Gal Gadot's breakout role in Wonder Woman has cemented her spot among the Hollywood elite, but the City of Angels is hardly her hometown. The former Miss Israel 2004 was raised in Rosh HaAyin. She even served the mandatory military service for the Israeli army.