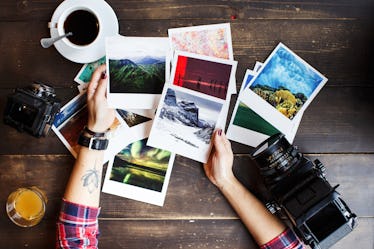 12 Wanderlust Tattoo Ideas For The Traveler Who Can't Help But Dream Big
veles_studio/Fotolia
When you think about getting inked, you know whatever you get will be a part of your life forever. If you know what wanderlust is like, you know that your desire to travel and explore the world is part of your life forever, too. These wanderlust tattoo ideas are perfect for those who long to travel the globe, because a reminder to wander is never unwelcome.
Whether you're more of an artist, a historian, or a minimalist, these travel-inspired tats are sure to inspire. Some are more generalized, showcasing a love for exploring this beautiful world of ours, while others are specific to a city or special place. All of them, though, are creative, inspiring, and oh-so-lovely.
With a world as large and wonderful as the one we have to explore, your travel tattoos options are basically endless. No matter how you like to travel, where you want to go, or what memories you've already created, there's a tattoo out there for you. Keep wandering, friends.
1. A Traditional Compass
The compass is a classic symbol of travel and transportation. Even though we now live in a world of cell phones and GPS, just about everyone will recognize the rose of a compass. This symbol is so diverse, you can design and wear it in any way that will match your style.
2. A History-Inspired Globe
If you're more of a traditionalist, a standard globe is a go-to for a travel tattoo. Adding a special touch, like a ship, can make this classic design all your own. Hopefully it will remind you of all of the adventures you've had and the one's you've yet to experience, too.
3. A Minimalist Globe
A tiny little globe is another way to go if you want to wear the world on your skin. This design can be done in black ink only, and made to look pretty discreet if that's more your style. The little globe on your arm may be small, but this world is so, so big.
4. The World On Your Shoulders
If you're dedicated to this lovely world we live in, you can get inked with a map of the entire world. All you really need is an outline, so it won't be as much of a pain in the butt to get as you might think. Plus, it looks pretty badass.
5. Another Stamp On Your Passport
An inked-on passport stamp is a creative way to remember your travels. You can add to your collection as you continue your adventures. Maybe you'll even match your passport one day.
6. An Artsy Compass
As we've already seen, the compass is a classic yet super diverse symbol of travel. You can make it as simple or as artistic as you'd like, but the meaning will always be there. It may be even more special to have your own take on something so classic.
7. A Reminder Of Your Favorite Place
If there's a particular country or city that holds a special place in your heart, you can carry it with you wherever you go. A simple outline can represent a nation, or you can draw out anything that's symbolic of your special place. That way, you'll never be too far away.
8. Something Nautical
If your heart belongs by the beach, a nautical tattoo is the way to go. An anchor is classic and symbolic of a lot more than just ocean travel, but a wave or palm can be just as meaningful. Whatever takes you back to your special place by the water...
9. The Window Seat
For those air travelers out there, the view out of the window seat can be nothing short of spectacular. To remind yourself of the amazing world, you can capture one of those views forever. What you want to see out of your personal window is entirely up to you.
10. Wanderlust Written Out
Nothing says wanderlust quite like the word itself. It's meaningful yet to the point, so you'll never forget just why you got this inked. Hopefully it will remind you to get out there and wander, too.
11. Your Fave City Skyline
A skyline can be drawn as simply or as detailed as you'd like, so you'll be able to draw your city exactly the way you want it. No one will have a map out to double check your work, so it doesn't have to be perfect. It just has to be yours.
12. A Watercolor Masterpiece
An artistic take on your fave city skyline will make for some seriously epic photos. It will also remind you of that special place that will always be waiting for you. Traveling is all about making the world your own, and there's no better way to express that than through the art on your body.