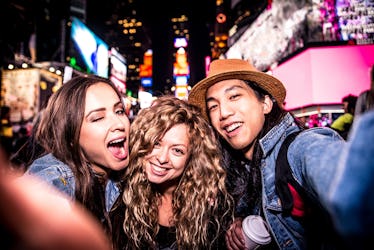 12 Things To Do In NYC That Don't Involve Drinking, But Will Get All The Insta Likes
The bright lights and big city are calling, because you're headed to The Big Apple. Believe me, I understand your feels. Even though I moved away from NYC three years ago, I still have that wanderlust drawing me back to visit every so often. When I do, I want to make the most of my time, because no matter how long you're there, there's never enough time to do everything you want. So, instead of going out to a bar (like you could do at home), you should take advantage of your trip with things to do in NYC without drinking.
There are a ton of iconic landmarks and hidden gems to explore. New York City is also the backdrop to so many movies and shows, that you have to relive the footsteps of some of your favorite characters while you're there. You could channel your inner Sex and the City girl squad by dressing up in your cutest tulle skirt and pumps, and visiting the filming locations.
You could have a beer anytime, but you can only get delicious cookies that are bigger than your hand while roaming around the Upper West Side. Maybe you live in NYC, and your squad's just looking for something different to do on the weekend. Whatever your reasoning may be, if you're not looking to drink, you can add these 12 things to your to-do list instead.