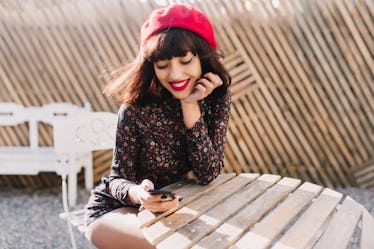 12 Texts To Send An Old Flame If You're Ready To Rekindle The Romance
When I was in high school, I had an ex who I'd inevitably get back together with every year during the holiday vacation. They lived out of state, but for those two weeks, they'd visit their grandma in my town. And just like clockwork, one of us would reach out via text to test the waters and see if some of that, ahem, "holiday magic" was still alive. What I'm saying is, when it comes to texts to send an old flame to reignite some sparks... oh yeah, I've got this.
But here's the thing about rekindling a romance via text: This only really works if it's something you both want. On the one hand, if you're still crushing on your ex, there's a chance the feeling is mutual. In that case, shooting your texting shot might be the move. However, it's also really important to respect people's boundaries. If you have a contact agreement in place, or they've made it clear they don't want to keep in touch with you, keep their feelings in mind. But f the state of the relationship is a little friendlier, then testing the waters with a text is a pretty great way to see how you're both feeling. Before you know it, you just might be reawakening a romance with the one who almost got away.