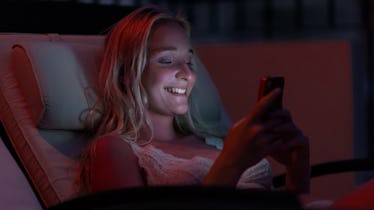 Here's The Best Steamy Sext To Send Your Partner, Based On Their Zodiac Sign 
For some folks, sexting just comes naturally. They fire off freaky dispatches faster than their thumbs (typing on the screen, get your mind out of the gutter) will allow. And then there are folks more like me, the introverts who, despite being down with sexting in theory, inevitably catch a raging case of writer's block whenever it comes time to actually, you know, writing one. Does that sound familiar? Whether you're a little on the shy side or are just looking for inspiration, you can get some steamy ideas on what to sext your partner, based on their zodiac sign.
Even seasoned sexters can step up their game by catering their message to their partner's most innate desires. By knowing what erotic buttons to push with your sext, you can pretty much guarantee your partner will be turned on AF when they get it. What you may also learn in the process is that sexting is not as intimidating as you thought, and may even be a bit addictive. You'll also learn a lot more about what turns you on, which is always an empowering and exciting thing. So, on that note, let's get to sexting. Here is some filthy fodder, courtesy of the stars, to get your imagination going.