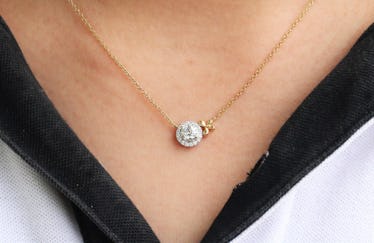 12 Necklaces To Propose With If Rings Aren't Your Partner's Thing
Making the decision to propose to your partner might feel like a natural choice. Selecting the item you'll propose to them with? This can be a little more complicated. When choosing a piece of jewelry to give your partner, you want something that signifies your lifelong commitment and suits their unique sense of style. Traditionally, you might pick out an engagement ring — but rings aren't everyone's cup of tea, and they're not your only option. If your partner prefers other jewelry, consider proposing with a necklace instead.
According to The Knot's 2019 Jewelry & Engagement Study, 4% of couples choose not to exchange rings at their proposal. This could be for a variety of reasons — from the cost (the average engagement ring costs $5,900) to simply a matter of personal preference. By selecting a piece of jewelry that feels more authentic to your partner's taste, you're giving them something they will love to wear for years and decades to come. And ultimately, that's more important than sticking with tradition.
These 11 necklaces span several different styles and price points, but any one of them would make a fabulous choice for a proposal. Plus, they're all timeless, so you don't have to worry about them going out of style.