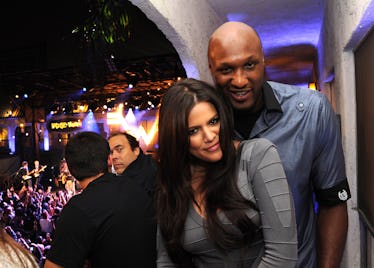 11 Times Celebrities Opened Up About Being Cheated On & It Was Heartbreaking
Michael Buckner/Getty Images Entertainment/Getty Images
Cheating is one of the most devastating reasons for a relationship to end. If you haven't been affected by a cheating partner, consider yourself lucky. Not even celebrities are safe from the havoc, and tons of couples have crashed and burned as a result of infidelity. While most celebs try to keep these personal matters under wraps, others are completely open about their struggles in life. Many of them even credit the turmoil in their love life to the person they are today. Below are 11 times celebrities opened up about cheating and it's brutal.
1. Iggy Azalea
Even the most "Fancy" of singers has been allegedly cheated on. After three years of dating and one year of engagement to NBA player Nick Young, the Australian singer took to Instagram to explain their relationship ending over "trust issues" after rumors of cheating had surfaced. As reported by Cosmopolitan, she said in the post in 2016,
Unfortunately, although I love Nick and I have tried and tried to rebuild my trust in him — It's become apparent in the last few weeks I am unable to.
She continued,
I genuinely wish Nick the best. It's never easy to part ways with the person you planned [your] entire future with, but futures can be rewritten and as of today mine is a blank page.
Young also took to social media to announce their break up in much simpler terms. He tweeted "Single" on June 19, 2016 to express his newfound freedom.
2. Jennifer Aniston
This was the cheating scandal heard round the world. It was reported that beloved Hollywood couple, Brad Pitt and Jennifer Aniston were getting divorced in 2005 after seven years together. Rumors were swirling that the divorce had everything to do with Pitt's Mr. And Mrs. Smith co-star, Angelina Jolie. At the time, you were either Team Jennifer or Team Angelina — no in-between. Obviously, Jolie couldn't have been the sole reason of the split, but followers of the drama sure like to believe so. Aniston remained a classy angel during the debacle, but spoke out during 2008. As reported by People, Aniston told Vogue in Dec. of 2008,
There was stuff printed there that was definitely from a time when I was unaware that it was happening, ... I felt those details were a little inappropriate to discuss. That stuff about how she couldn't wait to get to work every day? That was really uncool.
However, Aniston is not into playing the victim in any regards. She continued, "This whole 'Poor lonely Jen' thing, this idea that I'm so unlucky in love? I actually feel I've been unbelievably lucky in love," she said. Tell 'em, Jen.
3. Jennifer Lopez
Aniston is not the only famous Jennifer to fall victim to infidelity. Jennifer Lopez has also opened up about being cheated on, but (as expected) she's come out on the other side of the experience more empowered.
Although she didn't give any specifics about who she was talking about, she told Glamour in 2015,
I think it's about realizing it's not about you. When someone cheats on you, it's about them ... about their shortcomings.
We all need to be a little more like J. Lo.
4. Khloé Kardashian
Khloé Kardashian and Lamar Odom's marriage was less than perfect, and infidelity was at the top of the pyramid. Khloé Kardashian is an open book and talked about her disappointment and shock over the "disgusting" cheating scandals. She told Howard Stern in January of 2016,
I [was] genuinely blown away, like, 'When did he fit that in?' I don't know ... It's a full-time job ... It is humiliating on any level, but I found out that he was cheating during the majority of our marriage.
Considering Khloé is expecting a baby with the love of her life, Tristan Thompson, I would say things have definitely worked out for her.
5. Sandra Bullock
In 2010, multiple women very publicly came forward to say they had affairs with Sandra Bullock's husband at the time, Jesse James. He later admitted the accounts were true and said, "It's all part of life." He and Bullock ended up splitting in June of 2010. However, Bullock is "grateful" for where the experience got her in life. As reported by Babble, she told Vogue,
We're all where we're supposed to be. I am exactly where I want to be now. You can't go backward. I'm not going backward. I'm grateful that I'm here, blessed to have what I have. Nobody can be prepared for anything.
Now, Bullock is surrounded by love with her two adopted children, Laila and Louis, and boyfriend Bryan Randall.
6. Kristen Stewart
Fans were shocked when photos of Kristen Stewart kissing her Snow White And The Huntsman director Rupert Sanders surfaced. The problem? Sanders was married and Stewart was still dating Robert Pattinson. It was a sh*t storm.
She gave a heartfelt statement to People reiterating that she loved Pattinson and was "deeply sorry." The actress said,
I'm deeply sorry for the hurt and embarrassment I've caused to those close to me and everyone this has affected. This momentary indiscretion has jeopardized the most important thing in my life, the person I love and respect the most, Rob. I love him, I love him, I'm so sorry.
The two have since broken up, but Stewart definitely learned her lesson the hard way.
7. Eva Longoria
Eva Longoria got very real about her ex-husband Tony Parker's affair. For Longoria, ignorance was not bliss. The actress wanted to know all the details. While on The Conversation with Amanda de Cadenet, Longoria explained,
I just think, 'Wow, okay, that's the life you want to live.' It wasn't about who he chose. I mean, I had moments [where I wondered], 'Am I not sexy enough? Am I not pretty enough? Am I not smart enough?' But in so many of those questions, I immediately stopped and said, 'No, don't start doing that.' Because you can get stuck in that cycle and you can carry on to other things.
She continued,
Even having the conversation, I really wanted to provide a pillow for him to say and express 'the why.' Because I really wanted to know why. [I said], 'I'm not going to judge you. I'm not going to be mad in this moment. I'll be mad later.' People say, 'What grace!' And it wasn't that. I really wanted to know, and if you genuinely want to get something out of somebody, you have to not judge.
8. Britney Spears
On the heels of Spears' break up with David Lucado, MTV reported that Spears stopped in the middle of a concert in 2014 to say, "Well, by now everyone knows my boyfriend cheated on me." She reportedly continued, "But the best part of breaking up is going on first dates. Oh my God, I need a hot guy. Where are the hot guys here tonight?" Let's all get Brit a hot guy, shall we?
9. Sienna Miller
Jude Law and his family's nanny were splattered across every tabloid newspaper for months in 2005 after news of Law's infidelity broke when he was married to Sienna Miller. Miller remained quiet about the infidelity, but Law released a public apology explaining how "ashamed" he was. The statement said,
I am deeply ashamed and upset that I've hurt Sienna and the people most close to us. I want to publicly apologize to Sienna and our respective families for the pain that I have caused.
10. Uma Thurman
Uma Thurman's marriage also fell apart due to her husband's reported affair with the family nanny in 2005. Thurman described the fallout as "excruciating," and gave heartbreaking details about moving on. She told Oprah Winfrey during an interview,
You can move on, and you can be lucky and you can seize the moment and you can take one step after another. You bear two children with somebody — that's not a small thing — and then you can hardly talk to them.
11. Sophia Bush
From One Tree Hill to married in real life, Chad Michael Murray and Sophia Bush were a dream celeb couple. That is, until cheating rumors about Chad Michael Murray surfaced that are believed to have led to their 2006 divorce. Without mentioning Murray by name, Bush penned an open letter to Cosmopolitan in 2017 about the experience. The actress wrote,
I refuse to let that one relationship define me, which is why I've done my best to avoid discussing it for 10 years. The reality is that, yes, it was a massive event in my life. And the trauma of it was amplified by how public it became, which was incredibly foreign and bizarre to a girl who'd been just another college kid 24 months before her life blew up.
While these celebrity stories are devastating, most of them have landed in a better place in life. Lesson learned: Things always work out the way they're supposed to.
Check out the entire Gen Why series and other videos on Facebook and the Bustle app across Apple TV, Roku, and Amazon Fire TV.