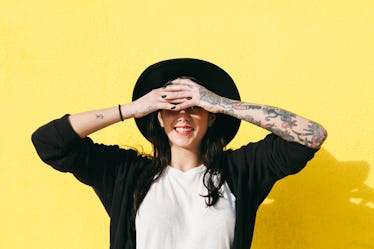 11 Tattoos To Get For Music Festival Season That'll So Speak To Your Carefree Soul
The sun is starting to shine, the birds are chirping, and the wind doesn't sting your face when you get outside. Can you feel it? It's right around the corner. That's right — it's almost festival season time. If you're big into festivals, you've been ready for months now. Summer music festivals are what you look forward to all year long. You've been crossing off the days on the calendar for months. You bought your tickets back in the winter. You even have your outfits picked out, folded, and put away in your travel bags — you're that ready to go. Now you're ready to get a move on to your festivals and their activities... and may be even considering some tattoos to get for music festivals.
There's a lot of stigma around tattoos, though maybe less than in the past. Because they're so permanent, people tend to place lots of importance on them, especially on whether or not you'll like it when you're older. But the truth is, you can get a tattoo for anything. As long you remember it was important to you at the time, does it really matter if that's still a moment in your life? So music festivals just might be the perfect place for you to try out a new tattoo. These 11 tattoos are the perfect pairing for a free spirit.