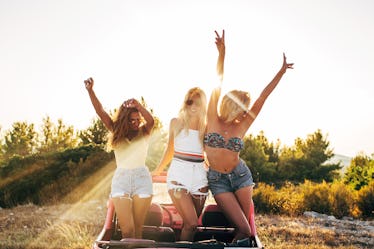 11 Surefire Signs Your Current BFFs Are Meant To Stick Around For The Long Haul
If you've navigated your way through high school, college, and the beginning of the *real* adult world without encountering any sort of immature girl drama, let me tell you, you are one lucky chick. For the rest of us out there who have dealt with (and hopefully cut ties with) toxic friendships, we know it to be all too true that genuine best friends are difficult to come by. Bestselling author Sarah Ockler once said, "In your entire life, you can probably count your true friends on one hand. I'd rather be completely alone than with a bunch of people who aren't real, people who are just passing time." The friends who stick around for the long haul — the rarest gems of them all — will stay by your side and be an amazing support system no matter what life throws at you. If you've found your people, hold them close, and never, ever let them go. Trust me, there are some surefire signs you're best friends for life, and not just friends for the moment.
Many people will inevitably pass through your world, but it's your job to fill your circle with the beautiful, loyal, genuinely kind souls who have your best interests at heart. You may live in completely different zip codes, but that doesn't mean you aren't the perfect pair of soul sisters. One of my best friends is long-distance, and although we don't get to see each other often, whenever we plan a girls' trip to reunite, it feels so natural and refreshing to pick up right where we left off.
Here are the telltale signs the current besties in your life are truly meant to be your main squeezes for eternity.