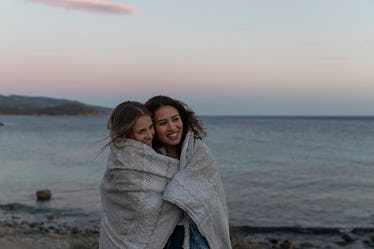 11 Casual Date Ideas That Don't Scream, "Hi, Please Marry Me"
Dating is exciting and nerve-racking all at the same time, but if I'm being honest, it can also be pretty exhausting. It just feels like there's so much pressure on every date. With so many options (and what can sometimes feel like not enough options), it's already hard to find someone to go on a date with. It's easy to forget what dating should be: Fun. Having a few go-to, casual date ideas to keep the pressure low can feel like a godsend when you just want to hang out with someone cool and get to know them.
A first date can bring nerves, excitement, curiosity, and (a crowd favorite) even butterflies. Maybe you're excited and can't wait to learn more about them. Or maybe you've already felt sparks and already know want to make out with them forever! Whatever the case, those first dates don't have to feel so high-stakes, which is why it can be a good idea to go with something more casual. Sure, going to a nice restaurant is a classic date and definitely allows plenty of time to talk, but if that feels to "formal," or you're daunted by the idea of spending hours coming up with conversation topics, worry not.
Below, 11 casual date ideas so you can focus on each other, and not who's going to tip the waiter.