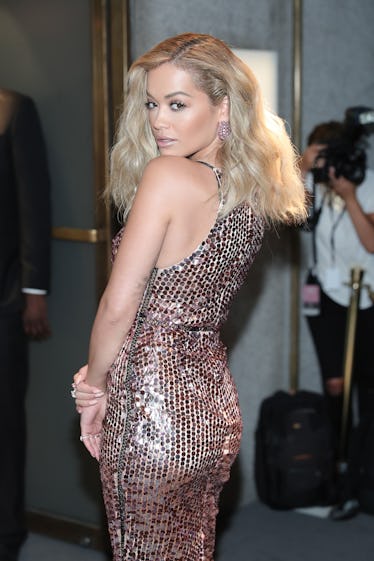 11 Affordable Holiday Party Dresses That Sparkle, Because All That Glitters Is Gold
Neilson Barnard/Getty Images Entertainment/Getty Images
There's nothing I appreciate more about the holiday season than the fact that adorning myself in glitter, from my hair to my toenail polish, is completely acceptable. I'm like a crow, I love shiny things. So of course I scanned the web for affordable sparkly holiday dresses, because let's be real: I'll probably need a few of them to get me through this festive season, and I'm on a budget with a capital "B".
While it can sometimes be hard to find a glitzy dress at a low price point that doesn't look like it belongs in a high school dance recital circa 2004, this year's shimmery offerings are plentiful and legitimately chic. This is probably due in part to the fact that head-to-toe shimmer was a huge high fashion trend for fall/ winter 2017, and the trends that appear on the runways in Paris, London, Milan, and New York have a way of trickling down and infiltrating the fast fashion world. (Thank god, otherwise there's no way I'd ever be able to afford anything timely.)
From maxi to mini, simple to ornate, there's a dress style to make everyone glow. Find yours and shine on (you crazy diamond).
That's A Wrap
This robe-like wrap dress is equal parts comfy and chic. It's wearable on its own but would also look killer as a duster coat over jeans and a blouse, meaning it's a versatile piece you'll be able to wear time and time again this season. While it's not outright glittery, it has a sophisticated sheen to it.
Let's Groove
This shimmery body-con dress gives me major '80s disco vibes. Its puffed sleeves and sweetheart neckline set it apart from other similarly stretchy and curve-hugging dresses (like the ones I wore in college during my club rat days).
Golden Ticket
OK, I'm realizing pretty much every dress in this roundup will remind me of the '80s because GLITTER. But this one shoulder iteration would have totally been at home at Studio 54 during its glory days. It's simple yet sexy and easy to accessorize. (Gold hoops and stilettos would do the trick!)
Ruff Time
This is one of the more structurally unique glittery dresses I've seen. Its main bodice is super boxy, but the oversized ruffle that cuts through it at an angle gives it a rather romantic effect. It reminds me of a starry night sky...who wouldn't want to look as dazzling as that?
Fringe Benefits
This dress actually gives me major flapper vibes with its insanely fringy hemline and shapeless bodice. It begs to be twirled and danced in but could also be worn to a black tie event; the perfect combo of elegant and playful.
Green With Envy
I love the diamond pattern created within this dress' sequins and the slight ruffle detailing on each of its shoulders. It's a minidress, but thanks to its high neckline, it wouldn't too over-the-top for me to wear to my family Christmas party.
Split Personality
This is one hundred percent me in dress form. Part floral grunge, part shimmery silver, it combines two of my absolute favorite aesthetics. The haphazard ruffles add to its edgy effect, which lends itself well to being paired with sneakers, booties, or platform heels alike.
Tiers of Joy
Another super practical yet super sparkly option, this dress brings me back to my ballet days when I danced in a yearly production of The Nutcracker. It looks flouncy, comfy, and wearable pretty much anywhere.
LB(&S)D
This little black and silver dress is so simple yet so good. Its shorter skirt gives it a touch of sex appeal, but I love how refined the draping is at the waist. Little palates of silver sequins dot the dress to make it sparkly, but not overly so.
Heavy Metal
If you want full on shine, this is the dress for you. It kind of reminds me of the going out version of medieval armor, so Game of Thrones fans, get on it!
Gone Baroque
This dress is retro in silhouette and boasts a super delicate golden design. My favorite thing about it are its wispy sleeves, which remind me of little wings.