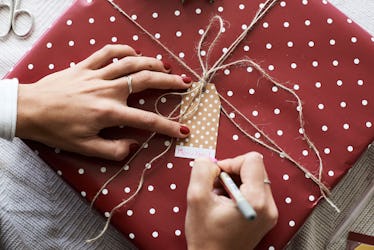 11 Holiday Gifts Under $50 That Your Significant Other Would Flip For
'Tis the season... for frantic shopping, searching for the perfect gift, and keeping a watchful eye on your bank balance — amirite?! Although the holidays can be a wonderful time to exchange gifts with your loved ones, enjoy all the sparkly decorations, and bust out your finest cheesy Christmas sweater, it can also be a stressful time on your finances. Sticking to a budget can be hard enough throughout the year, and the holidays might put an extra strain on your dollars, but don't worry! We got you! Check out these 2018 holiday gifts for your boyfriend or girlfriend under $50 that your loved one and your wallet will dig!
While your holiday shopping list likely includes family, friends, and co-workers, chances are the gift you're most concerned about getting just right is the gift for your boyfriend or girlfriend. Of course, it depends on if you've just recently started dating, or have been dating for years and years. If you're newly together, you might not be thinking of big investment pieces, and if you've been together for ages, a gift card to Amazon probably ain't gonna cut it. This gift list has lovely ideas for relationships of all lengths, all within a handy budget of $50.