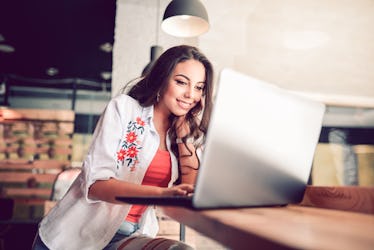 These 10 Zoom Date Ideas Go Beyond Video Chatting & Are So Romantic
AleksandarGeorgiev/E+/Getty Images
This year's been a tough one for many reasons, not the least of which is what 2020 has done to social lives everywhere. Chances are, what social activities you've been able to enjoy — particularly of the romantic variety — have largely taken a turn for the, well, virtual. Whether you're out there meeting and dating new peeps or have had to quarantine separately from your partner, it's meant a lot of video chatting. While that's better than zero contact, you're likely in serious need of some new Zoom date ideas after all these months apart.
Zoom date fatigue is real. The good news is that you have some options and don't have to settle for more of the same. There are a lot of surprisingly creative activities that can help freshen things up. Some are just plain fun while others are all about adding to the romantic vibe. There are even some that will help you skip all that small talk and instead allow you to get to know your date on a deeper level.
If you have a Zoom date coming up on the calendar and want to try something new, consider these date ideas that take your video chat to a whole new level.