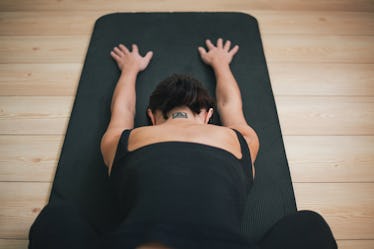 When Your Neck Is Killing You After A Long Day, Unwind With This Soothing Yoga Flow
We live in a time when it's basically a given that, no matter what you do for a living or how you spend your days, you can likely be found hunched over a computer, or craning your neck to read something on your phone. It is, quite literally, a pain in the neck. The physical discomfort that inevitably comes with being glued to technology 24/7 has essentially become a tolerated nuisance — something that's begrudgingly accepted, or temporarily masked with a couple of pills. But when the meds don't cut it, a few yoga poses for neck pain may just do the trick to soothe those throbbing sensations and help you release the tension you're holding in your upper body.
As a yoga teacher, so many of my students come to my classes complaining about neck pain, and luckily, I know just the stretches to sprinkle into your flow for some much-needed relief. Rest assured, these are all super simple asanas, but they work wonders to relieve that tension you're carrying in your neck and shoulders.
Even if your discomfort isn't necessarily chronic, and you're just experiencing a random bout of soreness after a long day at the office or a little too much time scrolling through social media, flowing through this soothing yoga sequence will be just what you need to banish all of that unwelcome tightness plaguing your upper body.