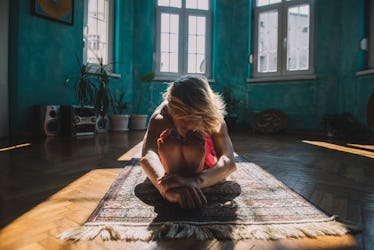 These Easy Floor Workouts Will Make You Feel Productive When You're Actually Lazy AF
You know those days when you realize you've been lounging on your floor watching Netflix for the past three hours, and getting up actually sounds like the most painfully dreadful task imaginable? Yeah, same. What's even more comical is envisioning yourself actually making it to the gym and squeezing in that sweat sesh you had planned. Luckily, there are loads of workouts you can do on the floor so that you can embrace your inner laziness without skipping out on a little bit of movement for the day.
Honestly, even though being lazy is often frowned upon in our fast-paced society, it's actually not as bad as it's cracked up to be. According to The Independent, laziness is actually a pretty important part of leading a productive and fulfilling life. So, yeah, take that, over-achievers!
Now, that doesn't mean you should take permanent residence on the floor and become an indefinite sloth-like version of the girl you used to be. But if you don't feel like getting up for a quality workout, let your innermost laziness shine through by keeping your sweat sesh at a... lower surface, shall we say.
The next time you're 100 percent sure there's no way in hell you're getting up from your comfy ground-level situation, feel free to stay right where you are with these 10 effective and (mildly) easy floor workouts.