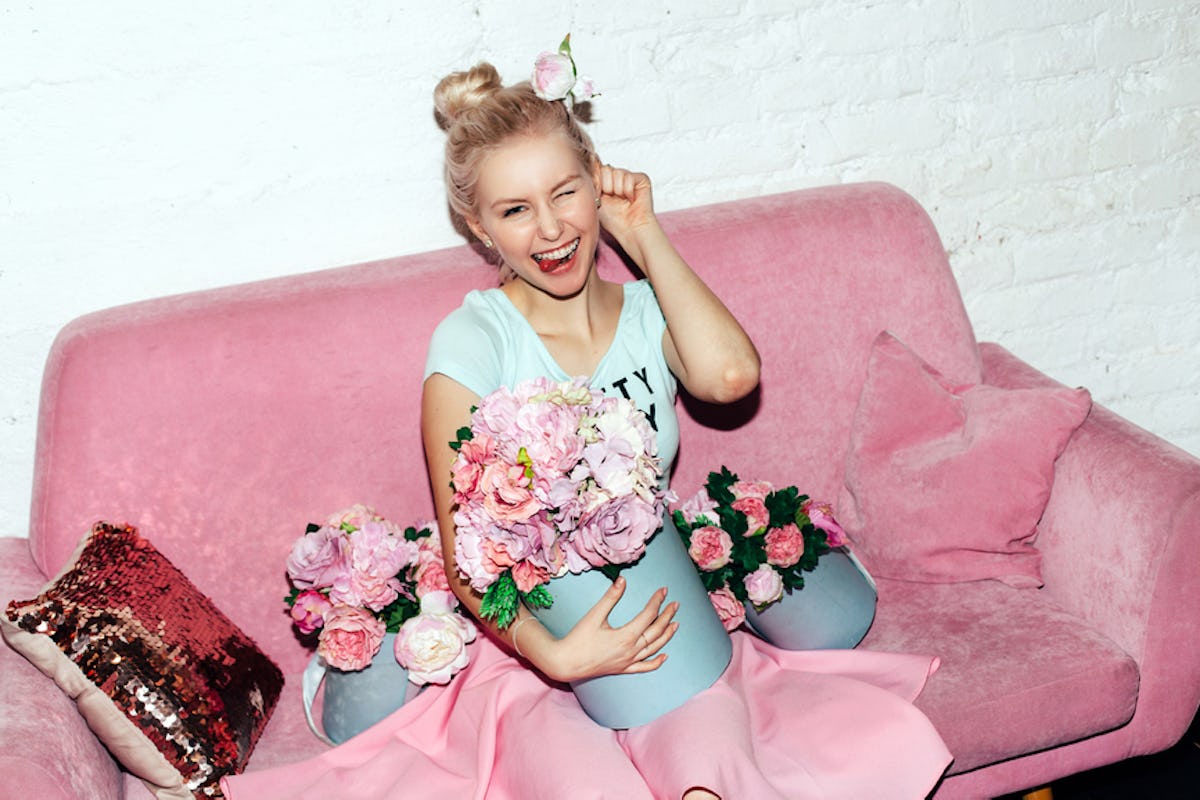 10 Valentine's Day Gifts For Your Friends Who Deserve All The Love In The World
To quote the endlessly brilliant Carrie Bradshaw, "Maybe our girlfriends are our soulmates and guys are just people to have fun with." If that's the case (and yes, yes, it is), don't our true soulmates deserve a little celebration and pampering? I'm glad you agree. Which is why we should all be buying Valentine's Day gifts for friends this year. Because, whether you're in a relationship or not this February, I'm a firm believer that V-Day is a holiday best celebrated between women.
As someone who's spent multiple Valentine's Days with boyfriends and Galentine's Days with ~the girls~ (shoutout to Leslie Knope for coining that term!), I can tell you — hand on heart — that Galentine's Day wins every time. It's the perfect chance to eat chocolate en masse, watch sappy romantic comedies, and knock back a few bottles of rosé while embracing the magic of female friendships. Or, if you're feeling like Jennifer Garner in the movie Valentine's Day, it's a solid excuse to beat the crap out of a heart-shaped piñata.
Beyond fancy boxes of chocolates and giant stuffed teddy bears, there are hundreds of adorable ways to show your girlfriends that you love and appreciate them this Valentine's Day. But if you're stumped trying to figure out what to gifts to give your friends this year, I've outlined 10 fun ideas below — some sweet, others decadent, and all sure to put a smile on your BFF's face.
A dress she can wear for your next GNO.
Valentine's Day is the best time to treat your friend to something a little out of the ordinary — like that dress you know she's tried on at least twice at the boutique around the corner, or this sparkly, feathery number from ASOS. Tell her to save it for your next night out on the town.
Or some bath bombs for a relaxing night in.
Sometimes, we all need a little reminder to kick back, unwind, and take an evening to ourselves. A couple pink, rose-filled bath bombs say exactly that.
Some gorgeous floral candles for her bedside table.
It's hard to imagine spring will ever come right now, but at least these babies will have your BFF's apartment smelling like a field of May flowers while we wait for those April showers.
Chocolate-covered strawberries that are as sweet as she is.
I know chocolate-covered strawberries are traditionally a sexy, romantic treat, but have you ever tried to eat them in a sensual fashion? The result is normally more "Demogorgon from Stranger Things" than "sexpot," which makes them a way better gift for your best friends than your SO.
Some festive lotion and lip balm.
This lotion and lip balm set from L'Occitane isn't just adorable, it also smells amazing.
A cozy scarf.
Personally, I've never met a pink, furry article of clothing that I didn't love.
Some pocket notebooks, for the secretary of your friend group.
You know, the one who's constantly jotting down notes, dates, and bartender's phone numbers.
These dainty gold rings.
Fun story: A boy once gave me a necklace that looked like an anatomical heart. He was like, "Isn't it perfect? I thought of you the second I saw it!" Why? I'm genuinely unsure — organs kind of freak me out... Point being, I wish he'd gotten me this dainty, heart-shaped ring set instead.
A bottle of pink gin, if G&Ts are her drink of choice.
I'm not sure which I love more: the packaging, or the fact that this bottle is filled with actual pink gin (made with rosé wine and juniper berries).
Or this jumbo wine glass, if she prefers to drink in Olivia Pope-sized amounts.
All that's missing from this gift is popcorn and government corruption. Or, um, maybe just popcorn.
Happy Galentine's Day, ladies.
Check out the entire Gen Why series and other videos on Facebook and the Bustle app across Apple TV, Roku, and Amazon Fire TV.
Check out the "Best of Elite Daily" stream in the Bustle App for more stories just like this!