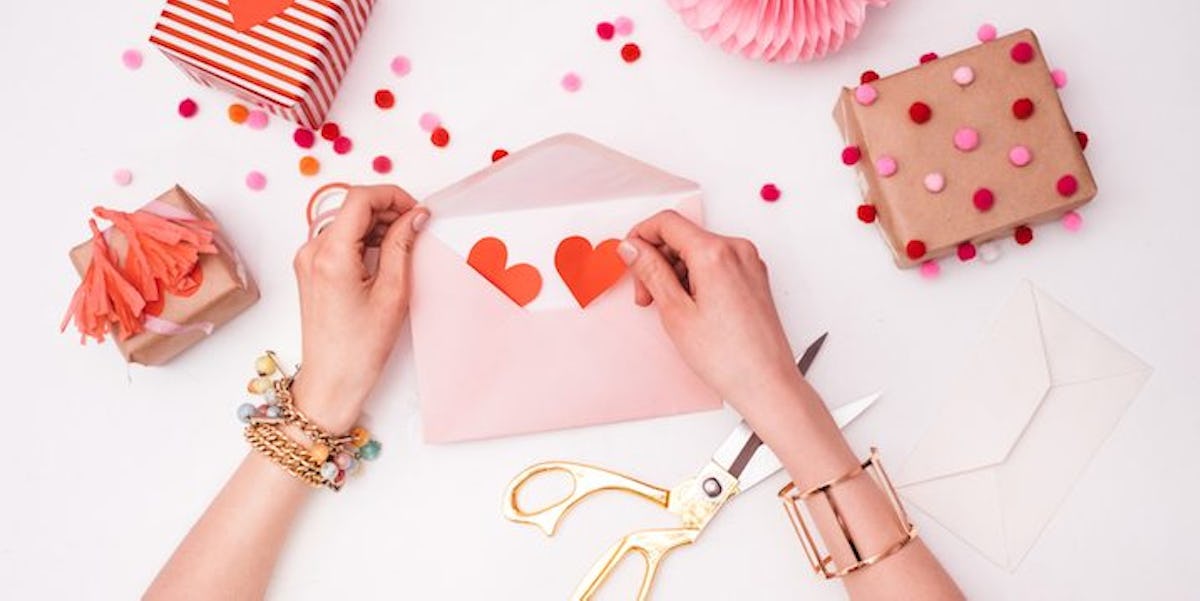 10 Heart-Shaped Valentine's Day Gifts For Your BFF That Won't Break The Bank
Though I may be single, I love any holiday that gives me an excuse to buy cute, heart-shaped things for my friends (and maybe for myself, too).
So, ladies, if the love of your life is your bestie, you're going to want to get her a cute Valentine's Day gift. And boys, you can still use this list to get gift ideas for your girl that won't break the bank.
Here's a list of 10 very affordable and adorable heart-shaped gifts to buy for someone special, just in time for love day:
1. Geometric heart-shaped earrings by Lana Betty ($25)
These adorable gold geometric heart-shaped earrings aren't your regular heart-shaped studs.
These ones uphold a modern standard, and your bestie will love the unique and intricate laser-cut geometric design within the hearts. These gems are a steal at only $25.
2. Heart-shaped decorative pin board from Target ($20)
With this adorably unique hanging heart pin board, your bestie can show off her favorite pics, postcards and important notes, all while adding a bit of sweetness to her space.
This heart-shaped linen bulletin board doubles as cute wall décor, and the white board features a metallic gold heart-shaped frame and the cutest-ever gold heart push pins.
A cream-colored rope at the top allows your bestie to hang it wherever she wants.
3. Engravable heart charm by Stella & Dot ($20)
Check out this gold-plated brass heart charm by Stella & Dot that comes with a complimentary personalized engraving.
You can engrave it with the word "love," "BFF," "bae" or whatever you want! The chain is sold separately, but most of us already have enough chains. It's charms we need more of, and this one is adorbs.
4. Heart-shaped flask from Urban Outfitters ($15)
Anyone who loves to sneak a drink will adore this heart-shaped flask from Urban Outfitters. Don't you just love heart-shaped things that are both cute and practical?
Dry January is over, so celebrate and get your bestie a flask! Pour some Fireball in there, and you're basically drinking a cinnamon heart.
5. Heart-shaped compact mirror from Wayfair ($25)
This sparkly silver heart-shaped compact mirror is perfect for that friend of yours who always has lipstick on her teeth. Just kidding.
Who wouldn't want this adorable compact mirror to carry around in their purse? I don't think I'll be able to get one for my bestie without also getting one for myself.
6. Loose heart bead ring by Lana Betty ($28)
These stackable, loose heart bead rings are simple and elegant. They're perfect for that minimalist friend of yours who wouldn't want something too over-the-top.
The tiny heart twists to face in the direction you desire, and it comes in either sterling silver or gold-filled wire.
7. Heart-shaped jewelry tray from Target ($10)
Your bestie will love this fashionable heart-shaped trinket tray because she can add a touch of warm décor to her bedroom and have a convenient place to keep jewelry in one place.
The cute design has the word "Love" in script, outlined inside a gold heart.
8. Heart-shaped picture frames from Wayfair ($25)
Wayfair has so many affordable heart-shaped picture frames, perfect for displaying a photo of two people in love.
Check out this cute triple heart frame and this cool key heart frame. Whether you're going to use it for a photo of you and your bestie or a photo of you and your bae, any two people who love each other that much need a photo together in a heart-shaped frame.
9. A bouquet of heart-shaped cake pops ($14)
For only $14, you can get a bouquet of heart-shaped cake pops that are cute and delicious. (Seriously, they're so delicious that I could eat 20 of them in one sitting and still want more.)
Just ask any local bakery that sells cake pops if they're offering heart-shaped pops to celebrate Valentine's Day.
10. Heart-shaped pillow from Wayfair ($40)
Check out this fuzzy heart-shaped pillow that comes in various colours, perfect for decorating a bedroom and way better than a stuffed animal.
There's also this more modern throw pillow with a fashionable gold heart design.
With all of these options, there's no need to stress about what to get your BFF or bae for V-Day.