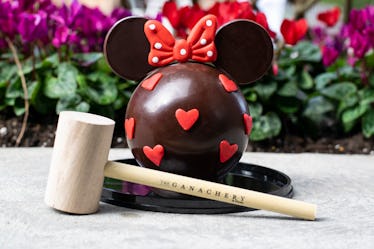 Disney Parks Are Celebrating Valentine's Day All Month With These 10 Treats
Courtesy of Disney Parks
Valentine's Day may be on Feb. 14, but that doesn't mean you can't celebrate the season of love with your bae all month long. Even Disney agrees — which is why some of their Valentine's Day 2020 treats at Disney Parks are available not only on Valentine's Day, but for the rest of February. That means your next date to Disney could still include a few adorable heart-shaped and Instagram-worthy treats you can share with that special someone.
Disney never lets a holiday pass without serving specialty menu items that are almost too beautiful too eat. But you'll eventually want to take a bite, because as gorgeous as these 10 Valentine's Day treats are, they're also incredibly delicious. Whether you're heading to Walt Disney World in Florida or Disneyland in California, you'll be able to find something sweet to share with the Mickey to your Minnie.
You could go halfsies with your partner on a cupcake like you're Lady and the Tramp splitting a mouthwatering meal, or you can get your own chocolate Minnie Mouse-shaped piñatas to smash into. Either way, your love — and sweet tooth — can keep celebrating the love that's in the air even after Valentine's Day has passed.