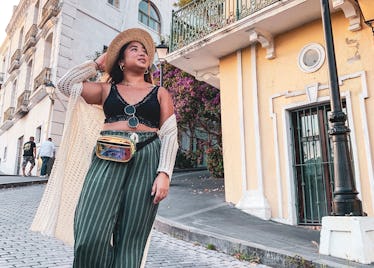 10 Most Useful Travel Items On Amazon That I Never Jet-Set Without
As a frequent traveler — and an even more frequent shopper — I'm always on the hunt for products that'll make my life easier. I love traveling and I never want to complain about having the opportunity to see the world, but being on the road can sometimes be pretty stressful. Between long flights, jam-packed itineraries, and beating jet lag, I think it's really important to have things that make traveling as comfortable as possible. That's why I've rounded up some useful travel items on Amazon that I never get on a plane, bus, or train without.
From the perfect neck pillow, to quick-drying water shoes, to my favorite fanny pack I've ever owned, there are quite a few travel gems I've found on Amazon that always find their way into my suitcase. Even though I try to pack as light as possible — I low-key refuse to check a bag — bringing these things really does help me feel more comfortable when I'm on the road. I travel for at least half of the year, and every little thing that can make me feel more at home is always a win in my book.
Before you go on your next trip, consider investing in some of these products. They'll seriously change the game for you.