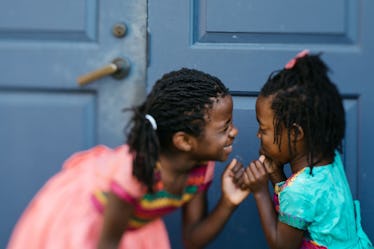 10 Things That Will Never Come Between You & Your Sister If Your Bond Is Legit
When your sister is truly your ride or die, your relationship can never be broken. From diapers to adulthood, you both have a clear understanding that you were born sisters by blood, but you'll go through life being each other's protector, confidant, sidekick, and so much more. You deflect any turbulence that could potentially shatter your relationship. That's why there's a long list of things that won't come between you and your sister, not even a little bit.
Sisters are a blessing. You two likely have different passions and goals, but that's what you love about each other. And no one ever keeps tabs on who did what for who; sisters share likes its no one's business. I mean, if you're going to share half of your lunch and collection of shoes, it might as well be with a family member who also doubles as your BFF, right?
Ladies with sisters know that there isn't a border you wouldn't travel to or a late-night phone call you wouldn't answer if it meant your main chick was on the other end. Your bond is that legit, and attempting to come between sisters is a total no-no. I'm sure you and your sis can agree that these 10 things won't ever come between the two of you.