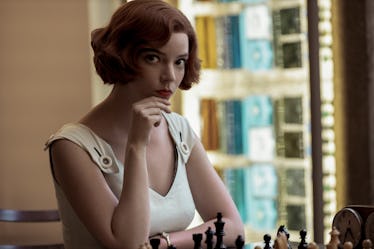 10 'The Queen's Gambit' Quotes That Deliver An Emotional Checkmate
Netflix
Chess is supposed to be a game of the mind. It's a world where emotions don't reach, where only logic rules. However, someone forgot to mention this to The Queen's Gambit, Netflix's surprisingly emotional new miniseries starring Anya Taylor-Joy as Beth Harmon. Harmon, a child prodigy turned world-famous chess player, loves chess (and winning at chess) more than she does anything else in the world, and that passion carries the seven-episode series. That's why these The Queen's Gambit quotes are proof that a show about a table sport can be just as romantic as any love story.
The Queen's Gambit is based on the novel by Walter Tevis, the American novelist known for The Hustler, The Color of Money, and The Man Who Fell to Earth. Though The Queen's Gambit is one of his lesser-known novels, it has a cult following. Having his lines spoken by stars like Taylor-Joy, Thomas Brodie-Sangster, and Harry Melling brings them to life in a beautiful way.
The Queen's Gambit is more of a sports series than anything else, but sports films are known for their passion. These inspirational quotes are a reminder that even though they play on plastic boards with plastic pieces, everything about The Queen's Gambit is done on a grander scale.