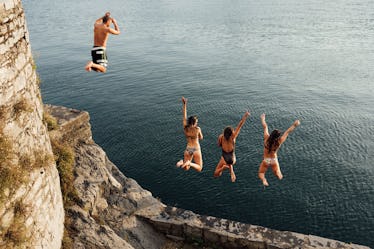 10 Best Summer Camp Traditions You & Your Crew Need To Bring Back This Summer
Getting dropped off at camp as a kid was the highlight of summer. Between the crisp scent of the outdoors, making new friends, and the unforgettable memories you took home with you each year, you were already packing your bags the second school let out. Today, you probably still hum your beloved camp songs and wish there were a way to experience those nostalgic days all over again. Well, I come bearing great news. There are summer camp traditions you and your friend group need to bring back this season, because you're long overdue for those carefree days of bonfires by the lake and roasting marshmallows.
Summer camps weren't all the same. Some were daily, and others lasted a whole month, but who was complaining? Either way, those summer camp traditions were practiced on the regular, and you couldn't forget them even if you tried. You and your friends can recreate that fun in the sun, and in the end, you'll be tighter than the countless friendship bracelets you've made. Yeah, there are adult summer camps, but if you're balling on a budget this summer, it's time to get creative. You can recreate those golden times of your life at camp by bringing these 10 traditions back into your life.