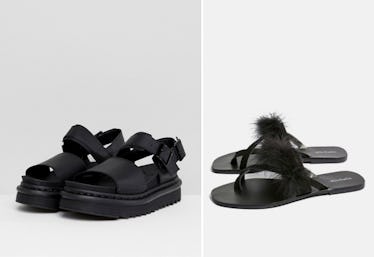 10 Strappy Black Sandals That'll Seamlessly Match Just About Everything In Your Wardrobe
ASOS // Topshop
When it comes to summer footwear, there's no style more ubiquitous or practical than strappy black sandals. They're the little black bootie of warm weather months since they go with literally everything, but that doesn't mean all black sandals are created equal. Just as patent finishes, heel height, lace details, metal hardware, textures, and more can all be combined to create exceptionally unique boots, sandals can incorporate a myriad of design details to set them apart from their peers and render them anything but boring.
In Argentina, for example, super chunky platform slides are the sandal du jour. I'm talking 3-inches-high chunky, with platforms that probably weigh the same as a small child. While those are a bit extreme for my taste and would 100 percent make me trip three times a day, they prove that black sandals can, indeed, have their own very stylistically impactful flare.
Whether your taste is super edgy and your motto is "the higher the platform the better," or you prefer super light and practical sandals, you'll find a pair of summer shoes below that will satisfy your exact footwear craving. Wear them with dresses, boyfriend jeans, miniskirts — whatever your heart desires. The chameleon of summer shoes literally can't look bad, no matter what you pair it with.
Nailed It
A simple shoe becomes instantly edgy thanks to the addition of small silver studs. The edginess isn't overly punky, though, meaning these sandals could pair with sweet florals just as easily as a streamlined, all-black look.
Tread Lightly
Dr Martens are most known for their iconic lace-up boots, but these chunky treaded sandals just might give the much-loved style a run for its money. I love their all-black color palette, sporty straps, and clunky appeal.
Silver Linings
If you want to add some shiny pep to your step, consider these lightweight sandals. Featuring super thin straps and an equally thin sole, they won't feel heavy or cumbersome on your feet. But what they lack in bulkiness, they make up for in metallic sheen.
The Black Pearl
Whether you're a fan of The Pirates of the Caribbean or not, these black pearl sandals are sure to strike your fancy. They're a bit dressier of an option, thanks to their sea-derived embellishments, but they still remain comfy and easy, thanks to their flat, slide-on style.
Roped In
These are just plain cool. Covered entirely in twisted rope, they boast a cool texture and subtle sheen.
Croc It To Ya
I love faux fur and faux leather offerings, so this pair of faux croc sandals certainly strikes a sartorial chord for me. With a main strap and a toe strap, they'll be the most secure slip-ons you've ever worn.
Good Sport
Like Teva hiking sandals, just a bit jazzed up. This style features a contrasting white sole and embellished rhinestone details. As they say, opposites attract!
Wrap Star
Oof, are these good or what? While slightly pricey, their quality leather material and sleek design make up for their cost. These are sandals you could wear year after year and still have the chicest feet on the block.
Black Swan
I love that fluffy feather additions are coming back on clothing and footwear, alike. These sandals boast the perfect bit of plumage to take them from casual and cute to refined and fancy — wear them with a silky black gown and you're ready for any dressy dinner party.
Good Goddess
And of course, here's the classic gladiator sandal to round things out. Look to any street style slideshow from summer months to get styling inspiration for these shoes — they're everywhere, and for a good reason.