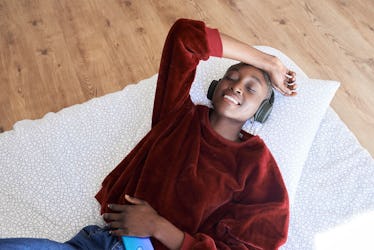 10 Songs To Listen To When You Miss Your Partner & Nothing Else Helps
If you've ever been in a long distance relationship, or had to be apart from your partner for an extended period of time, you know how hard it can be. The longing and the anticipation of when you will see each other again is intense. Reuniting is exciting, but during the time in between, it's hard not to get caught up in your feelings. When that happens, having a few songs to listen to when you miss your partner that reflect those emotions and experiences might be just what you need to feel a little bit better.
A great song for this situation can come in many different forms. Maybe it's one that helps you just embrace the pain and help you push through it. Maybe it's one that reminds of why sticking it out is worth it because what you have with your partner is so special. Or maybe you just need a banger to sing at the top of your lungs and release all your sadness! That's OK too! It's what makes music so amazing; it really can be so uplifting or cathartic, depending on what you need in that moment — and may even make you feel a little less lonely in the process. So, the next time you're in your feelings and really missing bae, give these songs a listen.