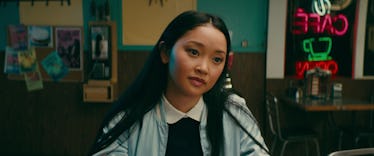 10 Secrets About 'To All The Boys I've Loved Before' That Even The Biggest Fans Won't Know
Netflix
The Netflix rom-com To All the Boys I've Loved Before has inspired plenty of crushes on Peter Kavinsky and slightly bittersweet reminiscing about our own high school selves. Most of us probably didn't have a Peter smiling sweetly at us in high school, but that won't stop me from living vicariously through Lara Jean and Peter. In case you can't get enough of this love story, we've tracked down secrets about To All the Boys I've Loved Before that even hardcore fans may have missed.
Based on the first book of Jenny Han's bestselling trilogy, To All the Boys I've Loved Before follows 16-year-old Lara Jean Song Covey (Lana Condor) as she realizes that the love letters she wrote to her crushes and never meant to send out have ended up in the hands of these specific boys. When the boy next door (and her sister's ex-boyfriend) wants to discuss her letter with her, Lara Jean strikes up a deal with fellow letter recipient Peter Kavinsky (Noah Centineo) to fake a relationship with each other and veer her neighbor Josh off her tracks. Things get complicated when Lara Jean begins to fall for Peter, a popular jock wanting to make his ex-girlfriend jealous about him and Lara Jean.
With talks of a sequel flooding the internet, To All the Boys I've Loved Before has been an overnight sensation for Netflix. Seeing as we're still waiting for confirmation of a follow-up film, what behind-the-scenes gossip can we dig up until we get more of Lara Jean and Peter onscreen?