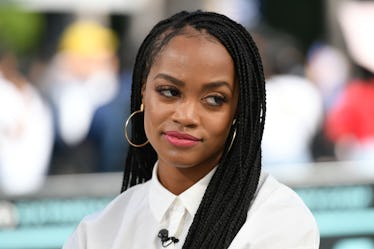 10 'Bachelor' Stars Who Are Calling Out The Franchise's Representation Issues
Noel Vasquez/Getty Images Entertainment/Getty Images
Bachelor Nation might be evolving with every passing season, but it is still majorly lacking in at least one important area: anti-racism. This problem is far from new for The Bachelor and its various spinoffs, but it is becoming more widely recognized, especially as members of Bachelor Nation publicly speak up about the show's lack of representation. A number of Bachelor stars' quotes about diversity within the franchise indicate just how far there is to go in the fight for equality both onscreen and behind-the-scenes.
The police killings of George Floyd, Breonna Taylor, and Tony McDade have sparked protests against racism and police brutality across the country. They have also sparked conversations about race and equality in essentially all aspects of life — Bachelor Nation included. Now more than ever, fans and franchise stars alike are facing the reality of Bachelor Nation's shortcomings in terms of diversity.
In the past 18 years, the Bachelor franchise has released 40 seasons, yet only of those seasons has had a Black lead (Rachel Lindsay, Bachelorette Season 13). A glance at any season's cast photo will tell you the contestant casting is not much more diverse; white contestants consistently outnumber BIPOC contestants every season.
Some stars from the series, like Lindsay, have been vocal about this lack of representation for years, while others have come forward more recently. Below, check out members of Bachelor Nation who have addressed the franchise's diversity issues — from casting, to showcasing contestants, to the fandom's poor treatment of people of color who go on the show.