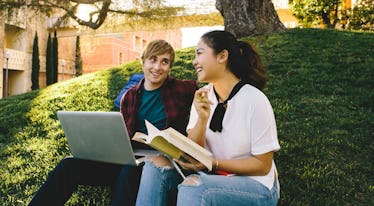 10 Questions To Ask A First Date When You're In College, Because This Isn't Study Group
No matter how old you are, going on a first date can make you feel anxious, excited, and giddy all at once. But in college, first dates can feel especially intimidating, since it's not every day you get out of your dorm for something other than class or studying. So, if you're all geared up for a first date with that cutie from Psych 101, then you've come to the right place. There are several questions to ask a first date when you're in college that will bring the heat, let you both relax a little, and obviously help you get to know each other.
The thing is, first dates in general are kind of anyone's guess as to how they'll go. If you met the person in class, at work, on a dating app, at the library, or a bar, it can feel like there's no way to tell if you have actual chemistry unless you just go out with them. So go! You never know what will happen, and you might end up really liking each other. Maybe you'll decide you're better off as study partners, or maybe you want to be friends with benefits. Whatever happens, you'll still want to have some questions to ask to get the ball rolling!