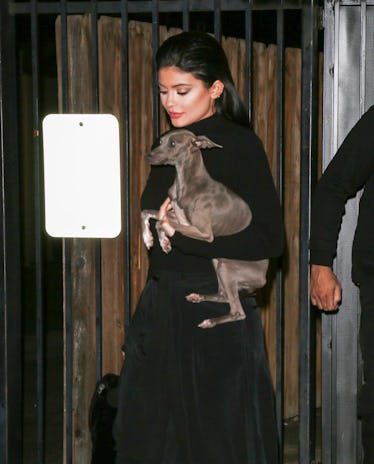 Please Inject These Adorable Photos Of Celeb Kids With Puppies Into My Veins
gotpap/Bauer-Griffin/GC Images/Getty Images
We live in a time when, often, celebrity kids wind up being equally as famous as their parents. Whether they're bound for superstardom themselves, or just are too cute to ignore, celeb children have grown their very own fanbases. But nothing is cuter than when they post photos with their family puppies. I mean, honestly, it can be cuteness overload at times. These photos of celebrity kids with puppies will make your heart burst.
Now, I'm not much of a cat lover as the next person, but there's something about puppies that particularly tugs at my heartstrings. And it seems like all of the most famous families in Hollywood are on the same wavelength. Chrissy Teigen and hubby John Legend adopted a puppy in January 2020, and several members of the KarJenner family have had puppies for years. With all the stress that comes with being a mega-star, I can hardly blame them for wanting a furry, tail-wagging puppy to come home to.
Between Luna Stephens' heart-melting selfies with her pup, and Blue Ivy's adorbs family photos with the Knowles' family doggo, these pics of celebrity kids posing with their puppies are the cutest thing you'll see all day.