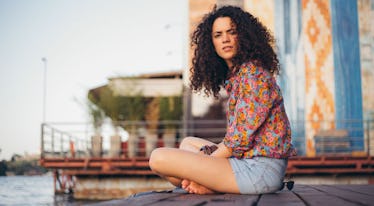 10 People Who Cheated Reveal How They Got Caught & You'll Cringe So Hard
When I suspect a partner might be cheating, I turn into a different person — one with a whole set of sleuthing skills I didn't even know I possessed. Yep, if I feel like they might be keeping something from me, I am not too proud to go full Nancy Drew on their social media, take a peek at any notifications that pop on on their phones, and just generally stay hyper aware for any clues that there might be shady shenanigans afoot. And it works, because when people reveal how they got caught cheating, it's usually because their partner already suspected something was up.
Now, don't get me wrong, I don't condone cheating (especially on me), but the one upside of people stepping out on their SOs is that getting busted can make for a really great story. What can I say? I like my Reddit confessions to come with a healthy side of schadenfreude. So, when I see a thread (or threads) about getting caught cheating, I grab the popcorn and get to reading. To share some of that joy, I've gathered up some really cringeworthy (in the best way) stories of people confessing how they got caught cheating by their exes. Don't make the same mistakes they did. Stay loyal, y'all!