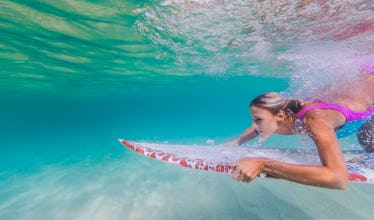 10 Outdoor Date Ideas To Try This Summer, Ranked By How Outdoorsy You Are
Camping: love it or hate it? You have to pick one, there is no in between, or "sort of like it." Have your answer? Great. Did you pick "love it?" Cool. You're Henry David Thoreau-level outdoorsy and you can start at the bottom of this list of outdoor date ideas. Did you choose "hate it?" Also cool! You're Meredith from the Lindsay Lohan Parent Trap-level not into bugs or dirt, and you can start at the top of this list.
While I am in the latter camp (pun completely intended), I do enjoy being outdoors. On a boat. With a drink in my hand. I guess I'm the type of person glamping was invented for. I enjoy a hike, but I prefer to sleep in an actual bed. I know it would be cooler to be outdoorsy, but I'm just not there yet.
But let's say I meet a cutie-cute man who happens to love spending weekends in the woods and wants to do something outside for a date. I don't need to change for the dude, but I'm definitely going to ask him to stay inside and watch Killing Eve with me, so I should probably make some compromises. Here's my list of outdoor date ideas to try this summer, starting with the least Outward Bound adjacent ideas and moving toward the more adventurous.