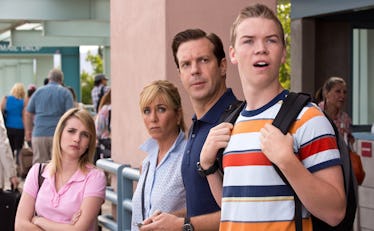 10 Movies That Will Fuel Your Summer Road Trip Vibes
Warner Bros. Pictures
Summer is the perfect season to pack a ton of snacks and sunscreen and hop in the car for a lengthy road trip. Whether you experience confused GPS systems, too many bathroom breaks, or less than ideal travel companions, not every adventure is perfect, and movies love tackling the improbable aspects of road trips. If you're planning your next driving odyssey right now, turn to some movies that will fuel your summer road trip vibes before sending out the itinerary to your squad.
Even if you've graduated from road trip vacations to elaborate excursions at resorts, chances are you've experienced long drives down dull-looking highways with your family. Your mom insisted on playing "I Spy" before realizing you could only describe cars or sky in so many ways, your dad controlled the radio, and you and your siblings fought for space in the cramped backseat. You might have graduated to road trips with friends, which probably involve more gossip and less sports radio, but maybe all of these trips have fallen short compared to the winding roads and smooth soundtracks of road trip flicks. Don't we all just want to look out a car window pensively as an acoustic song plays?
Whether you're in the mood for a whimsical drive across the country or a more debaucherous summer adventure, check out the list below for an early escape before it's time to roll your car out for your own trip.