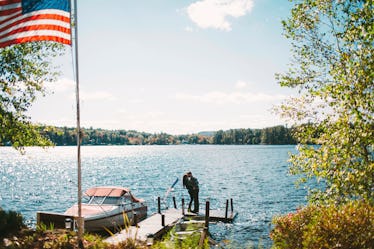 Memorial Day Weekend Means Extra Time With Bae, So Here Are 10 Epic Date Ideas
Memorial Day, which falls on Monday, May 28, this year, is a national holiday that commemorates all the military men and women who gave their lives for our country. The weekend before, however, tends to be a time for celebratory outdoor barbecues and pool parties to help welcome the upcoming summer season. We may have essentially skipped spring this year, but Memorial Day weekend still marks the beginning of sunny summer days and long summer nights. To help you and bae say hello to the warm weather, here are 10 Memorial Day weekend date ideas for you to try together.
Because the weather has been so unpredictable lately, I've included indoor as well as outdoor date options. And if you (or your partner) don't want to drink, there are plenty of activities below that don't need to involve alcohol consumption. Plus, you can take your pick from romantic one-on-one dates as well as fun group outings. Whatever your interests, there is bound to be more than one date idea here that speaks to you. So get out your American flag sunnies and your cutest red, white, and blue ensemble. Because believe it or not, Memorial Day weekend is right around the corner.