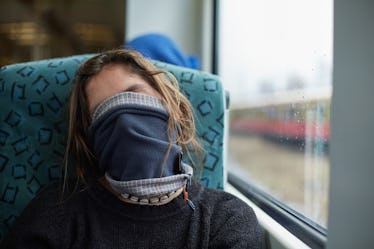 After A Really Awful Day, Go Ahead & Treat Yourself To These 10 Little Things At Home
Let's face it: sh*t happens. You can do your very best to have a productive, healthy, enjoyable day, and yet, it can all fall apart, anyway. Sometimes it's simply out of your control, which is why it can help to have a plan B in your pocket: Instead of carrying your bad mood into the evening (and maybe all the way to the following morning, too), you can do some little things to make you feel better after a terrible day. The best part about this feel-good strategy is that there are plenty of ways to turn your day around, without having to make a big effort or spend a lot of money.
Flipping your mood around at the end of the day might seem like a monumental task (especially if your mood is downright awful), but you might be surprised by how effective a little bit of self-care can be. Whether you love sweating away the frustration, or settling in for the evening to marathon a new Netflix show, you should always try to keep in mind that no day is over until your head hits the pillow.
Here are 10 ideas for how you can improve a terrible day in the simplest way.