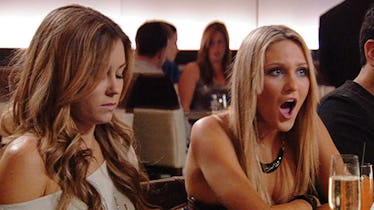 10 Iconic Moments From 'The Hills' That Will Get You So Ready For The Revival
MTV
Eight years after it wrapped on MTV, The Hills is officially returning for a revival series, The Hills: New Beginnings. Other than the heartbreaking absence of Lauren Conrad, who inspired all of our fashion mogul aspirations at an early age, most of the original blonde-haired, effortlessly chic gang are due back for presumably more than just nights at the club and the dissection of boy drama. Seeing Heidi and Spencer Pratt run Instagram photoshoots of their son is bound to be legendary, but nothing can compare to the most iconic moments from The Hills.
Little else warms my nostalgia-craving heart more than revisiting some of the moments that made The Hills the prime guilty pleasure series. Whether the cast's monotone conversations and enviable parties intrigued you or turned you off, certain Hills scenes were so monumental in pop culture that everyone knew about them in an age of very limited social media. The new series will likely come with meta talk of social media influencers and Instagram ads (and Kyle Massey?), but nothing beats these important scenes from The Hills' first run.
Before the revival hits MTV, play some Natasha Bedingfield on a loop and refresh your memory of these 10 moments from The Hills that are worth remembering.