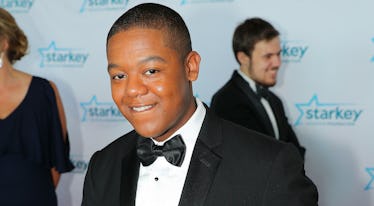 Kyle Massey Is Going From "The House" To "The Hills" For The New Revival
Adam Bettcher/Getty Images
Cory in the... Hills!? Reportedly, The Hills revival is adding a surprising new cast member to the iconic MTV franchise, and he will definitely be a familiar face to everyone who grew up watching Disney Channel. Yep — Kyle Massey is joining The Hills: New Beginnings cast, according to a new report from Us Weekly, and he is just one of the new stars that the revival series is adding.
Most fans know Kyle Massey as the mischievous younger brother Cory Baxter on Disney Channel's That's So Raven and his spinoff series Cory in the House. Now, Massey is apparently primed to make his big TV comeback as a new star on MTV's The Hills revival series. According to Us Weekly's source, Massey will be one of several new faces to The Hills world that will join the show's original cast in The Hills: New Beginnings. Apparently, this "new generation" will stir up drama while the now grown-up original cast members focus more on their families and careers:
They will show the old cast living their lives from day to day and then the younger cast members going out and causing drama.
Kyle Massey is the first of this "new generation" on The Hills: New Beginnings to be revealed. The revival series, which was recently announced during the 2018 MTV Video Music Awards, will bring back most of the show's original cast, with the following The Hills alums all confirmed to star: Heidi Montag, Spencer Pratt, Stephanie Pratt, Audrina Patridge, Whitney Port, Justin Brescia, Jason Wahler, and Frankie Delgado. Brody Jenner is reportedly in negotiations with MTV right now to return for the revival series as well, but Lauren Conrad, Kristin Cavallari, and Lo Bosworth are all sitting the new series out.
Kristin Cavallari is currently starring in her own reality series on E!, a network that competes with MTV, which is likely why she will not appear in The Hills: New Beginnings. For her part, Lauren Conrad reportedly turned down the revival because she is "in a different place in her life," hinting that she is choosing to focus on her family (husband of three years William Tell and her one-year-old son Liam) rather than a return to reality television.
With most of the original cast now married with children, MTV is likely bringing in Kyle Massey and the rest of this younger "new generation" of twenty-somethings to include some of the messy relationship drama that made The Hills so iconic. We have yet to hear of any other new names being rumored to join Massey as one of the new additions to The Hills: New Beginnings, but Us Weekly's source did mention that two unnamed bloggers are joining the revival cast along with Massey. We will have to wait to see how this surprising new addition will affect the show.
MTV has not yet announced an exact premiere date for The Hills: New Beginnings, but the network did promise that the revival series will debut at some point in 2019.