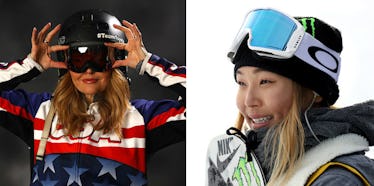 This Is What You'll Find In 10 Different Olympic Athletes' Gym Bags, So Take Notes
Getty Images/Ezra Shaw/Staff/Matthew Stockman
The Winter Olympics are right around the corner, which means it's time to brush up on your favorite athletes in ice hockey, figure skating, snowboarding, skiing, luging, bobsledding — did I get them all? Regardless of sport, each and every one of these athletes are so incredibly talented. Just think about all the intense workouts they must endure to sharpen their skills. TBH, you might find yourself low-key wanting to be just as prepared and in the zone as they are when it comes time for your own workouts. Luckily, we've rounded up a few gym bag must-haves from Olympic athletes so that you can pack like the pros and effortlessly slay your sweat sessions.
Honestly, it's pretty cool to find out that so many of the athletes competing in the Olympics are literally just like us. From common gym bag staples to comfort food cravings, these badass pros are actually totally normal and down to earth.
So, the next time you're (miraculously) convincing yourself to trek from your office to the gym on a snowy, sucky day — as if trudging through the icy tundra wasn't enough of a workout in and of itself — try packing your bag like these 11 Olympic athletes so you're more prepared for your sweat sesh than ever before.