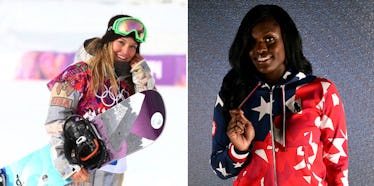 These Are The Comfort Foods Olympic Athletes Indulge In After A Long Day Of Training
Getty Images/Cameron Spencer/Staff/Harry How/Staff
Watching the Winter Olympics is entertainment at its finest. I personally prefer it over the Summer Olympics because, to me, figure skating is a sport that literally defies all the laws of gravity and physics, but of course, there are tons of sports categories that will amaze us all in 2018. Sometimes, Olympic athletes can perform feats of skill that make them seem straight-up godlike. You can totally forget that they're just regular people, which is why learning about what Olympic Athletes eat for comfort food can be low-key surprising, if not completely mind-blowing. I mean, they really are just like us, right?
The stereotype about intense athletes is that they abide by wildly strict diet regimens, fueling themselves off of quinoa and vegetables and glasses of raw eggs before a workout. But the truth is that athletes need a strong sense of mental health just as much as they need to work on their physical health, which is why it's so critical for them to continue eating the food that they love, even if it's only in moderation.
Comfort food is all about indulging for the sake of the mind, body, and soul, so it comes as no surprise that, in an exclusive interview with Elite Daily, each Olympic athlete admits to a totally specific treat unique to him or her. Here are eight different comfort foods from Olympic athletes looking to make big moves for the podium this winter.