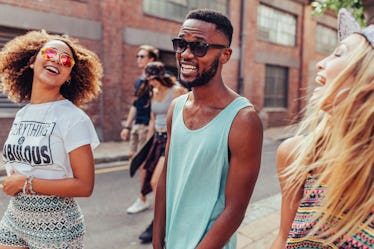 10 Men Reveal How Long Their Longest Dry Spell Was & How They Got Through It
"It's been like three weeks and I'm about to lose my mind," Eric* said, dramatically running his fingers through his hair. "Three weeks is a dry spell for guys?" I thought. I was genuinely confused. He explained, quite logically, that a dry spell was any period of time during which you'd like to be having sex but aren't or can't for some reason.
Eric and I had been friends since college and, although we were never more than that, he felt comfortable enough sharing this with me. I was glad, too, because it made me think about how other people defined their dry spells. How long is too long to go without having sex? I don't think there's any right answer. A dry spell for me is not three weeks so I found his frustration a tiny bit amusing.
The truth is, though, everyone goes through dry spells, regardless of how you choose to define them. Sometimes, you forget how long it's been since your last relationship or casual date. Other times, it's the pain of a bad breakup that's holding you back. And yup, guys have sexual droughts, too! Here's how long these 10 guys went without sex and how they managed to turn their luck around.